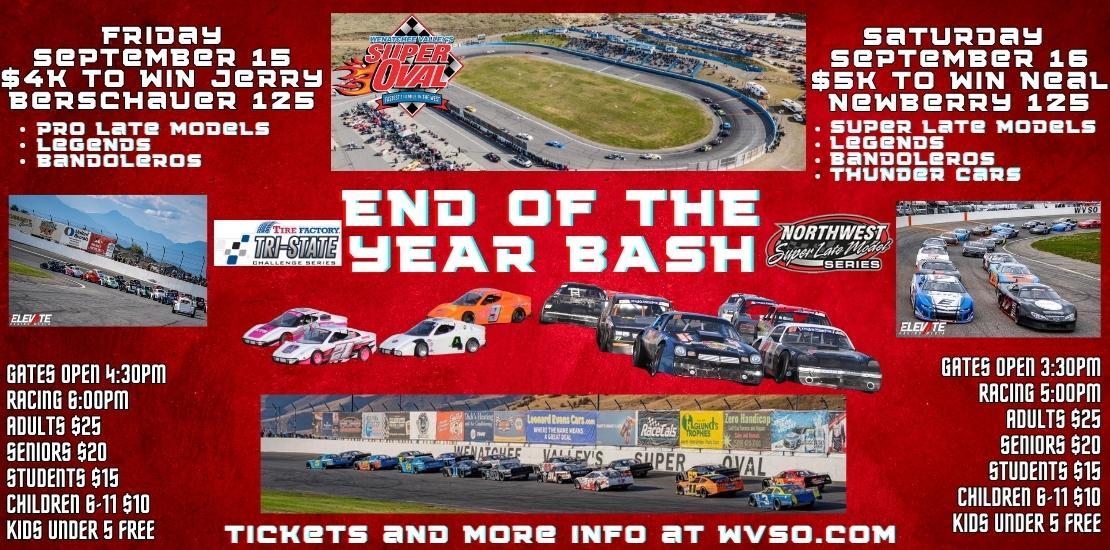 8/25/2023 -
It's one of the biggest weekends of racing in the Northwest for the End of the Year Bash at WVSO Friday September 15 & Saturday September 16. Tickets,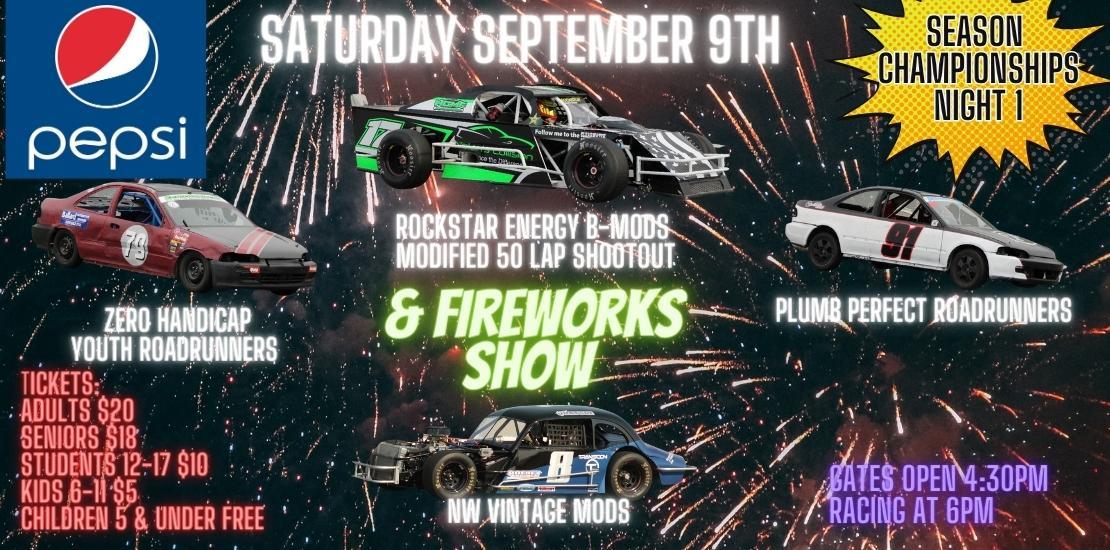 8/22/2023 -
Don't miss Saturday September 9th for Season Chamopionships Night #1 as we start to wrap up the year with Pepsi Fireworks Night. We will have a full n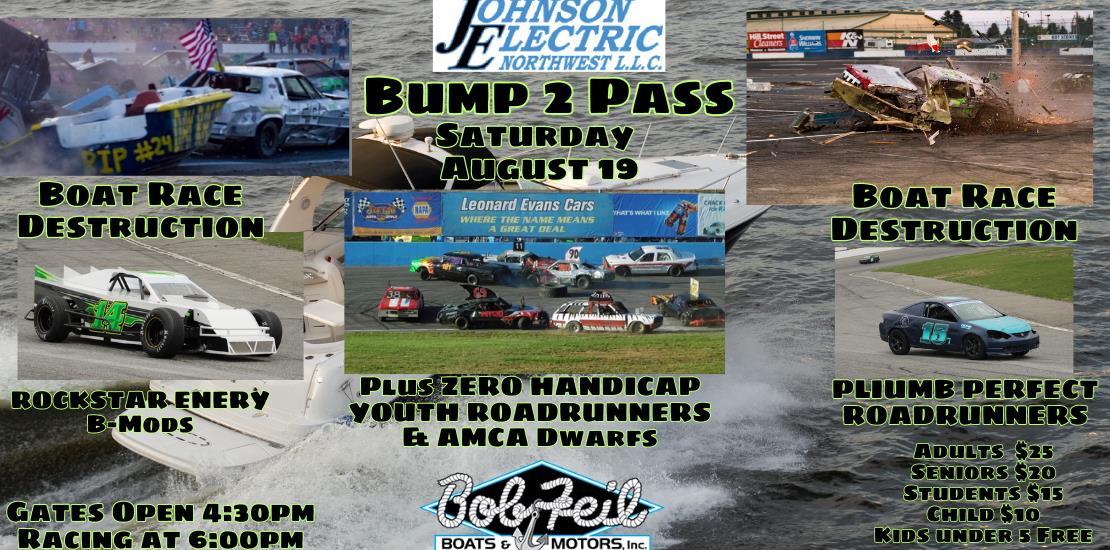 8/15/2023 -
Don't miss Saturday August 19th for the Johnson Electrict Bump 2 Pass and Boat Race Destruction night. It's a full night of carnage and fun. Plus a fu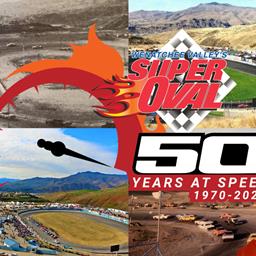 6/27/2020 - Wenatchee Valley Super Oval
Wenatchee, WA
Dick's Heating & Air Conditioning Opening Night at the Races
This will be a participant only event with No fans in the stands. The race will be broadcast live on NCWLIFE.com for free. Drivers are encouraged to pre-register.
Jerry's Auto Supply Pro Late Models

12 entries

Dick's Heating and Air Conditioning Thunder Cars

9 entries

Plumb Perfect Roadrunners

10 entries

Angel Bail Bonds Bandoleros

9 entries
Full Event Information on MyRacePass
Jerry's Auto Supply Pro Late Models
Finish
Start
#
Competitor
Hometown
+/-
1
5
16
Glenn Knutson Quincy, WA
Quincy, WA
4
2
2
51
Michael Knutson Quincy, WA
Quincy, WA
-
3
1
97
Josh Ingram Wenatchee, WA
Wenatchee, WA
-2
4
3
22
Jake Woods Yakima, WA
Yakima, WA
-1
5
7
68
Bart Hector Jr Ephrata, WA
Ephrata, WA
2
6
6
73
Dale Wennerberg Monitor, WA
Monitor, WA
-
7
4
2
Terry Halverson Wenatchee, WA
Wenatchee, WA
-3
8
10
6
Gary Homad Waterville, WA
Waterville, WA
2
9
8
33
Rocky Crocker Wenatchee, WA
Wenatchee, WA
-1
10
9
63
Gary Shales Wenatchee, WA
Wenatchee, WA
-1
11
11
71
Justin Dunagan Newport, WA
Newport, WA
-
Finish
Start
#
Competitor
Hometown
+/-
1
4
51
Michael Knutson Quincy, WA
Quincy, WA
3
2
2
63
Gary Shales Wenatchee, WA
Wenatchee, WA
-
3
3
68
Bart Hector Jr Ephrata, WA
Ephrata, WA
-
4
5
2
Terry Halverson Wenatchee, WA
Wenatchee, WA
1
5
6
73
Dale Wennerberg Monitor, WA
Monitor, WA
1
6
1
71
Justin Dunagan Newport, WA
Newport, WA
-5
Finish
Start
#
Competitor
Hometown
+/-
1
3
97
Josh Ingram Wenatchee, WA
Wenatchee, WA
2
2
5
16
Glenn Knutson Quincy, WA
Quincy, WA
3
3
1
6
Gary Homad Waterville, WA
Waterville, WA
-2
4
2
33
Rocky Crocker Wenatchee, WA
Wenatchee, WA
-2
5
4
22
Jake Woods Yakima, WA
Yakima, WA
-1
Finish
Start
#
Competitor
Hometown
Time
1
11
73
Dale Wennerberg Monitor, WA
Monitor, WA
13.536
2
7
16
Glenn Knutson Quincy, WA
Quincy, WA
13.546
3
3
2
Terry Halverson Wenatchee, WA
Wenatchee, WA
13.549
4
12
22
Jake Woods Yakima, WA
Yakima, WA
13.587
5
8
51
Michael Knutson Quincy, WA
Quincy, WA
13.588
6
6
97
Josh Ingram Wenatchee, WA
Wenatchee, WA
13.592
7
4
68
Bart Hector Jr Ephrata, WA
Ephrata, WA
13.610
8
1
33
Rocky Crocker Wenatchee, WA
Wenatchee, WA
13.684
9
9
63
Gary Shales Wenatchee, WA
Wenatchee, WA
13.759
10
5
6
Gary Homad Waterville, WA
Waterville, WA
13.885
11
2
71
Justin Dunagan Newport, WA
Newport, WA
14.414
Dick's Heating and Air Conditioning Thunder Cars
Finish
Start
#
Competitor
Hometown
+/-
1
8
14
Seth Frazier East Wenatchee, WA
East Wenatchee, WA
7
2
7
46
Terry Osborn East Wenatchee, WA
East Wenatchee, WA
5
3
3
19
Michael Knutson Quincy, WA
Quincy, WA
-
4
6
71
Cameron Doyle East Wenatchee, WA
East Wenatchee, WA
2
5
1
25
RT Greiner East Wenatchee, WA
East Wenatchee, WA
-4
6
4
84
Carl Brandt Wenatchee, WA
Wenatchee, WA
-2
7
5
33
Colby Holaday Wenatchee, WA
Wenatchee, WA
-2
8
2
42
Neil Nelson Quincy, WA
Quincy, WA
-6
Finish
Start
#
Competitor
Hometown
+/-
1
1
25
RT Greiner East Wenatchee, WA
East Wenatchee, WA
-
2
5
14
Seth Frazier East Wenatchee, WA
East Wenatchee, WA
3
3
2
19
Michael Knutson Quincy, WA
Quincy, WA
-1
4
4
71
Cameron Doyle East Wenatchee, WA
East Wenatchee, WA
-
5
3
33
Colby Holaday Wenatchee, WA
Wenatchee, WA
-2
Finish
Start
#
Competitor
Hometown
+/-
1
4
46
Terry Osborn East Wenatchee, WA
East Wenatchee, WA
3
2
1
42
Neil Nelson Quincy, WA
Quincy, WA
-1
3
2
84
Carl Brandt Wenatchee, WA
Wenatchee, WA
-1
4
3
98
Kelly Cowlishaw Wenatchee, WA
Wenatchee, WA
-1
Finish
Start
#
Competitor
Hometown
Time
1
4
14
Seth Frazier East Wenatchee, WA
East Wenatchee, WA
14.647
2
9
46
Terry Osborn East Wenatchee, WA
East Wenatchee, WA
15.005
3
3
71
Cameron Doyle East Wenatchee, WA
East Wenatchee, WA
15.195
4
2
98
Kelly Cowlishaw Wenatchee, WA
Wenatchee, WA
15.218
5
6
33
Colby Holaday Wenatchee, WA
Wenatchee, WA
15.270
6
1
84
Carl Brandt Wenatchee, WA
Wenatchee, WA
15.327
7
7
19
Michael Knutson Quincy, WA
Quincy, WA
15.386
8
8
42
Neil Nelson Quincy, WA
Quincy, WA
15.425
9
5
25
RT Greiner East Wenatchee, WA
East Wenatchee, WA
15.632
Plumb Perfect Roadrunners
Finish
Start
#
Competitor
Hometown
+/-
1
1
71
John Doyle East Wenatchee, WA
East Wenatchee, WA
-
2
6
4
Alberto Navarrete East Wenatchee, WA
East Wenatchee, WA
4
3
4
22L
Kyle Larr Ephrata, WA
Ephrata, WA
1
4
3
14
Masen Hagood Ephrata, WA
Ephrata, WA
-1
5
5
98K
Karlyn Kocher Leavenworth, WA
Leavenworth, WA
-
6
2
55
Andrew Aper South Cle Elum, WA
South Cle Elum, WA
-4
7
9
52
Jamy Macken Moses Lake, WA
Moses Lake, WA
2
8
7
7
Breanna Macken Moses Lake, WA
Moses Lake, WA
-1
9
8
22
Emily Macken Moses Lake, WA
Moses Lake, WA
-1
Finish
Start
#
Competitor
Hometown
+/-
1
5
22L
Kyle Larr Ephrata, WA
Ephrata, WA
4
2
4
55
Andrew Aper South Cle Elum, WA
South Cle Elum, WA
2
3
3
98K
Karlyn Kocher Leavenworth, WA
Leavenworth, WA
-
4
1
52
Jamy Macken Moses Lake, WA
Moses Lake, WA
-3
5
2
7
Breanna Macken Moses Lake, WA
Moses Lake, WA
-3
Finish
Start
#
Competitor
Hometown
+/-
1
2
4
Alberto Navarrete East Wenatchee, WA
East Wenatchee, WA
1
2
3
71
John Doyle East Wenatchee, WA
East Wenatchee, WA
1
3
4
14
Masen Hagood Ephrata, WA
Ephrata, WA
1
4
1
22
Emily Macken Moses Lake, WA
Moses Lake, WA
-3
Finish
Start
#
Competitor
Hometown
Time
1
5
22L
Kyle Larr Ephrata, WA
Ephrata, WA
17.149
2
3
14
Masen Hagood Ephrata, WA
Ephrata, WA
17.262
3
1
55
Andrew Aper South Cle Elum, WA
South Cle Elum, WA
17.460
4
2
71
John Doyle East Wenatchee, WA
East Wenatchee, WA
17.478
5
4
98K
Karlyn Kocher Leavenworth, WA
Leavenworth, WA
17.618
6
9
4
Alberto Navarrete East Wenatchee, WA
East Wenatchee, WA
17.765
7
6
7
Breanna Macken Moses Lake, WA
Moses Lake, WA
21.229
8
7
22
Emily Macken Moses Lake, WA
Moses Lake, WA
22.986
9
8
52
Jamy Macken Moses Lake, WA
Moses Lake, WA
23.267
Angel Bail Bonds Bandoleros
Finish
Start
#
Competitor
Hometown
+/-
1
4
16
Allie-Mae Jones Puyallup, WA
Puyallup, WA
3
2
5
11X
Jordan Mullins Naches, WA
Naches, WA
3
3
3
45
Cannon Delong Ephrata, WA
Ephrata, WA
-
4
6
03
Kelby Dumont Charlo, MT
Charlo, MT
2
5
1
07
Makenna Lutz Ephrata, WA
Ephrata, WA
-4
6
2
19
Max Chase Hayden, ID
Hayden, ID
-4
Finish
Start
#
Competitor
Hometown
Time
1
6
16
Allie-Mae Jones Puyallup, WA
Puyallup, WA
17.525
2
4
45
Cannon Delong Ephrata, WA
Ephrata, WA
17.906
3
2
19
Max Chase Hayden, ID
Hayden, ID
18.021
4
9
07
Makenna Lutz Ephrata, WA
Ephrata, WA
18.295
5
7
11X
Jordan Mullins Naches, WA
Naches, WA
18.918
6
5
03
Kelby Dumont Charlo, MT
Charlo, MT
20.193
7
1
91
Dakota Ballard Yakima, WA
Yakima, WA
23.262
8
8
28
Ben Reid JR Waterville, WA
Waterville, WA
24.384
9
3
77
Caleb Delong Ephrata, WA
Ephrata, WA