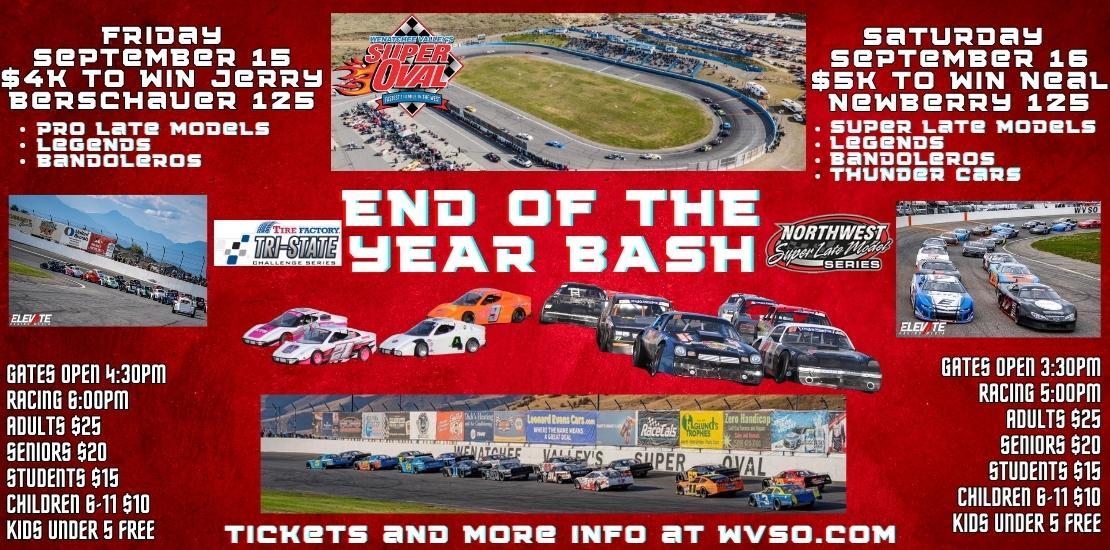 8/25/2023 -
It's one of the biggest weekends of racing in the Northwest for the End of the Year Bash at WVSO Friday September 15 & Saturday September 16. Tickets,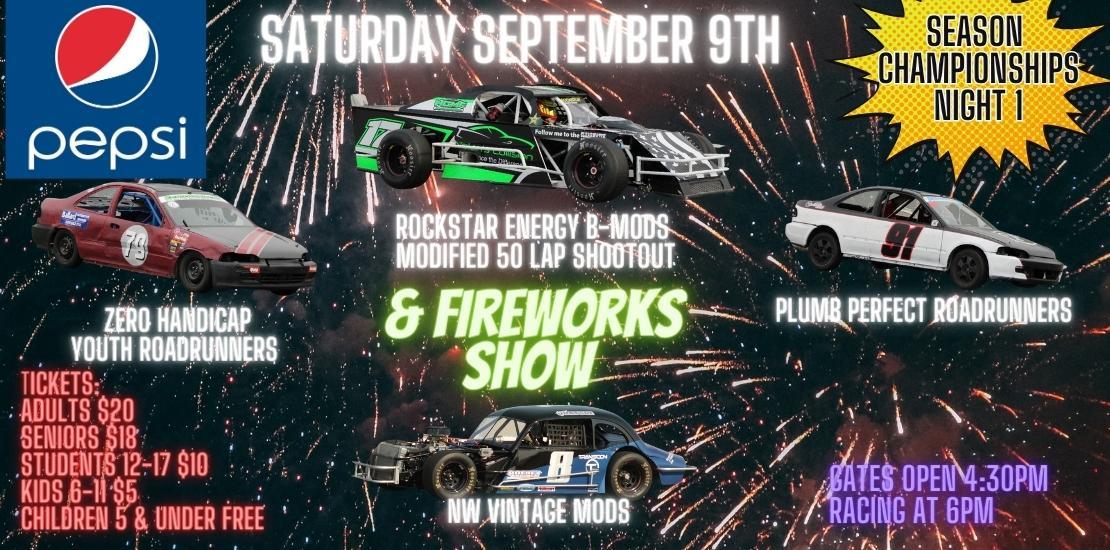 8/22/2023 -
Don't miss Saturday September 9th for Season Chamopionships Night #1 as we start to wrap up the year with Pepsi Fireworks Night. We will have a full n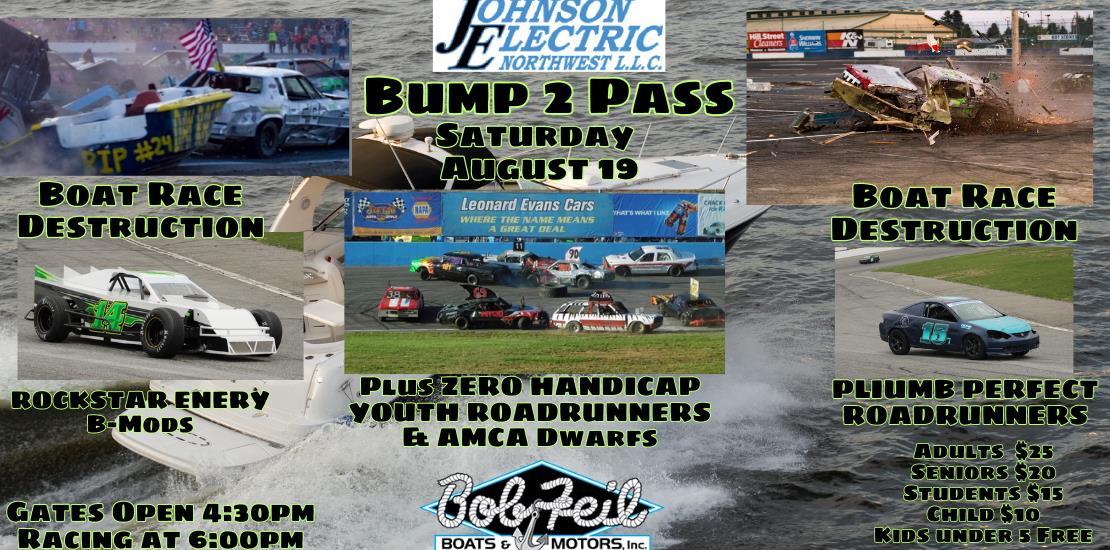 8/15/2023 -
Don't miss Saturday August 19th for the Johnson Electrict Bump 2 Pass and Boat Race Destruction night. It's a full night of carnage and fun. Plus a fu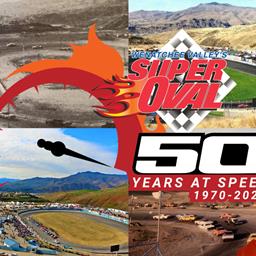 10/30/2021 - Wenatchee Valley Super Oval
Wenatchee, WA
Spooky Clash: Moses Lake Karting
Below is information and rules for each division. Drivers must pre-register for each division they run in. The cost is $35 per registration. It will be $10 for Pit Pass day of event Cash Only. All Covid restrictions must be followed.
Kart Rules:
We made these rules to be inclusive of both Monroe & Spokane Area Karts.
Must have full face Helmet, Neck collar, Eye protection, high top shoes and a race jacket or thick abrasive jacket.(No Hoodies Allowed)
Must have your Number Cleary displayed on your Kart.
Large Pit Area first come first serve on stalls. No Driving Karts in the pit area only in staging area.
All karts can be treaded or slicks except stage one is slick only
Questions regarding registration contact Jeremy Anders jeremy@wvso.com 509-884-8592. The MRP will require you to input 4 separate Kart numbers to complete the registration.
Kids Comer Karts

5 entries

Jr Karts 1 Ages 5-9

15 entries

Box/Stage 1 Clone/Predator

17 entries

1/4 Midget Restricted Rookie

8 entries

Spokane Sealed

18 entries

Jr Karts 2 Ages 10-15
Stage 2/3 4 Cycle

13 entries

KT 100

6 entries

KT 100

11 entries

Super Mod 4 Cycle

18 entries

1/4 Midget Open Motor Class

5 entries

Open Pro

18 entries
Full Event Information on MyRacePass
Jr Karts 1 Ages 5-9
Finish
Start
#
Competitor
Hometown
+/-
1
1
999
Parker Hamilton East Wenatchee, WA
East Wenatchee, WA
-
2
4
51
Tyson Knutson Quincy, WA
Quincy, WA
2
3
3
46
Jaxon Bernard Soap Lake, WA
Soap Lake, WA
-
4
2
10X
Ryker Bernard Soap Lake, WA
Soap Lake, WA
-2
5
5
43
Case Torrey Moses Lake, WA
Moses Lake, WA
-
Finish
Start
#
Competitor
Hometown
+/-
1
1
3
Madex Moran Kennewick, WA
Kennewick, WA
-
2
3
10
Skylar McClaughry Marysville, WA
Marysville, WA
1
3
7
66
Bailey McGuire Wenatchee, WA
Wenatchee, WA
4
4
5
21M
Madi Hoppe Sedro-woolley, WA
Sedro-woolley, WA
1
5
10
4
Ryder Shiflett Ephrata, WA
Ephrata, WA
5
6
2
21
Brody Tarr Spokane, WA
Spokane, WA
-4
7
8
28
Taz Tarr Spokane, WA
Spokane, WA
1
8
6
74
tyler huffines Selah, WA
Selah, WA
-2
9
9
63
Rowdy Rupinksi Rathdrum, WA
Rathdrum, WA
-
10
4
09
Piper Harless Lake City, WA
Lake City, WA
-6
Finish
Start
#
Competitor
Hometown
+/-
1
1
46
Jaxon Bernard Soap Lake, WA
Soap Lake, WA
-
2
3
999
Parker Hamilton East Wenatchee, WA
East Wenatchee, WA
1
3
2
51
Tyson Knutson Quincy, WA
Quincy, WA
-1
4
5
10X
Ryker Bernard Soap Lake, WA
Soap Lake, WA
1
5
4
43
Case Torrey Moses Lake, WA
Moses Lake, WA
-1
Finish
Start
#
Competitor
Hometown
+/-
1
8
3
Madex Moran Kennewick, WA
Kennewick, WA
7
2
2
66
Bailey McGuire Wenatchee, WA
Wenatchee, WA
-
3
1
10
Skylar McClaughry Marysville, WA
Marysville, WA
-2
4
7
21M
Madi Hoppe Sedro-woolley, WA
Sedro-woolley, WA
3
5
9
21
Brody Tarr Spokane, WA
Spokane, WA
4
6
5
28
Taz Tarr Spokane, WA
Spokane, WA
-1
7
6
74
tyler huffines Selah, WA
Selah, WA
-1
8
10
09
Piper Harless Lake City, WA
Lake City, WA
2
9
3
4
Ryder Shiflett Ephrata, WA
Ephrata, WA
-6
Finish
Start
#
Competitor
Hometown
+/-
1
1
10X
Ryker Bernard Soap Lake, WA
Soap Lake, WA
-
2
2
999
Parker Hamilton East Wenatchee, WA
East Wenatchee, WA
-
3
4
43
Case Torrey Moses Lake, WA
Moses Lake, WA
1
4
3
51
Tyson Knutson Quincy, WA
Quincy, WA
-1
5
5
46
Jaxon Bernard Soap Lake, WA
Soap Lake, WA
-
Finish
Start
#
Competitor
Hometown
+/-
1
2
3
Madex Moran Kennewick, WA
Kennewick, WA
1
2
1
09
Piper Harless Lake City, WA
Lake City, WA
-1
3
3
21
Brody Tarr Spokane, WA
Spokane, WA
-
4
5
63
Rowdy Rupinksi Rathdrum, WA
Rathdrum, WA
1
5
4
74
tyler huffines Selah, WA
Selah, WA
-1
6
9
10
Skylar McClaughry Marysville, WA
Marysville, WA
3
7
7
4
Ryder Shiflett Ephrata, WA
Ephrata, WA
-
8
8
21M
Madi Hoppe Sedro-woolley, WA
Sedro-woolley, WA
-
9
10
28
Taz Tarr Spokane, WA
Spokane, WA
1
10
6
66
Bailey McGuire Wenatchee, WA
Wenatchee, WA
-4
Box/Stage 1 Clone/Predator
Finish
Start
#
Competitor
Hometown
+/-
1
11
6
Dustin Haviland Arlington, WA
Arlington, WA
10
2
2
4
Todd Walters East Wenatchee, WA
East Wenatchee, WA
-
3
12
12RK
Jason Thomas Granite Falls, WA
Granite Falls, WA
9
4
4
9
Chris Walters East Wenatchee, WA
East Wenatchee, WA
-
5
5
74
Randy Russell Spokane Valley, WA
Spokane Valley, WA
-
6
6
26X
Cameron Doyle East Wenatchee, WA
East Wenatchee, WA
-
7
8
09
Piper Harless Lake City, WA
Lake City, WA
1
8
9
10
Dan Saltis Marysville, WA
Marysville, WA
1
9
10
12
Spencer Hamilton East Wenatchee, WA
East Wenatchee, WA
1
10
3
88
Dane Stemme Concrete, WA
Concrete, WA
-7
11
1
2
Tanner Bennett Ellensburg, WA
Ellensburg, WA
-10
12
7
99
Tyler Larr Ephrata, WA
Ephrata, WA
-5
Finish
Start
#
Competitor
Hometown
+/-
1
1
6
Dustin Haviland Arlington, WA
Arlington, WA
-
2
5
12RK
Jason Thomas Granite Falls, WA
Granite Falls, WA
3
3
3
19
Chris Knutson Quincy, WA
Quincy, WA
-
4
4
5
Boyd Griffin Edmonds, WA
Edmonds, WA
-
5
2
16
Glenn Knutson Quincy, WA
Quincy, WA
-3
6
6
7
Chad Barnett Lacey, WA
Lacey, WA
-
7
7
20
Randy Pugh Moses Lake, WA
Moses Lake, WA
-
Finish
Start
#
Competitor
Hometown
+/-
1
2
4
Todd Walters East Wenatchee, WA
East Wenatchee, WA
1
2
9
9
Chris Walters East Wenatchee, WA
East Wenatchee, WA
7
3
3
74
Randy Russell Spokane Valley, WA
Spokane Valley, WA
-
4
6
19
Chris Knutson Quincy, WA
Quincy, WA
2
5
4
16
Glenn Knutson Quincy, WA
Quincy, WA
-1
6
7
5
Boyd Griffin Edmonds, WA
Edmonds, WA
1
7
1
7
Chad Barnett Lacey, WA
Lacey, WA
-6
8
8
99
Tyler Larr Ephrata, WA
Ephrata, WA
-
9
5
20
Randy Pugh Moses Lake, WA
Moses Lake, WA
-4
Finish
Start
#
Competitor
Hometown
+/-
1
3
26X
Cameron Doyle East Wenatchee, WA
East Wenatchee, WA
2
2
8
2
Tanner Bennett Ellensburg, WA
Ellensburg, WA
6
3
7
88
Dane Stemme Concrete, WA
Concrete, WA
4
4
4
6
Dustin Haviland Arlington, WA
Arlington, WA
-
5
2
10
Dan Saltis Marysville, WA
Marysville, WA
-3
6
1
12
Spencer Hamilton East Wenatchee, WA
East Wenatchee, WA
-5
7
5
09
Piper Harless Lake City, WA
Lake City, WA
-2
Finish
Start
#
Competitor
Hometown
+/-
1
1
2
Tanner Bennett Ellensburg, WA
Ellensburg, WA
-
2
3
12RK
Jason Thomas Granite Falls, WA
Granite Falls, WA
1
3
8
74
Randy Russell Spokane Valley, WA
Spokane Valley, WA
5
4
2
9
Chris Walters East Wenatchee, WA
East Wenatchee, WA
-2
5
7
10
Dan Saltis Marysville, WA
Marysville, WA
2
6
4
5
Boyd Griffin Edmonds, WA
Edmonds, WA
-2
7
5
6
Dustin Haviland Arlington, WA
Arlington, WA
-2
8
9
7
Chad Barnett Lacey, WA
Lacey, WA
1
9
6
20
Randy Pugh Moses Lake, WA
Moses Lake, WA
-3
Finish
Start
#
Competitor
Hometown
+/-
1
2
99
Tyler Larr Ephrata, WA
Ephrata, WA
1
2
1
88
Dane Stemme Concrete, WA
Concrete, WA
-1
3
3
09
Piper Harless Lake City, WA
Lake City, WA
-
4
7
4
Todd Walters East Wenatchee, WA
East Wenatchee, WA
3
5
8
12
Spencer Hamilton East Wenatchee, WA
East Wenatchee, WA
3
6
5
26X
Cameron Doyle East Wenatchee, WA
East Wenatchee, WA
-1
7
6
16
Glenn Knutson Quincy, WA
Quincy, WA
-1
8
4
19
Chris Knutson Quincy, WA
Quincy, WA
-4
1/4 Midget Restricted Rookie
Finish
Start
#
Competitor
Hometown
+/-
1
3
S11
Tucker Shoemaker Selah, WA
Selah, WA
2
2
2
29
Payton Harding Oakville, WA
Oakville, WA
-
3
4
1C
Carter Sweatman Hoquiam, WA
Hoquiam, WA
1
4
8
21A
Hayden Adams Bellingham, WA
Bellingham, WA
4
5
1
55
Jordan Devries Concrete, WA
Concrete, WA
-4
6
5
1
Treycen LeCompte Elma, WA
Elma, WA
-1
7
7
87
Hudson Lutz Ephrata, WA
Ephrata, WA
-
8
6
42
Wesley Huffines Selah, WA
Selah, WA
-2
Finish
Start
#
Competitor
Hometown
+/-
1
1
29
Payton Harding Oakville, WA
Oakville, WA
-
2
7
55
Jordan Devries Concrete, WA
Concrete, WA
5
3
4
1C
Carter Sweatman Hoquiam, WA
Hoquiam, WA
1
4
8
S11
Tucker Shoemaker Selah, WA
Selah, WA
4
5
6
1
Treycen LeCompte Elma, WA
Elma, WA
1
6
2
42
Wesley Huffines Selah, WA
Selah, WA
-4
7
3
21A
Hayden Adams Bellingham, WA
Bellingham, WA
-4
8
5
87
Hudson Lutz Ephrata, WA
Ephrata, WA
-3
Finish
Start
#
Competitor
Hometown
+/-
1
2
55
Jordan Devries Concrete, WA
Concrete, WA
1
2
1
S11
Tucker Shoemaker Selah, WA
Selah, WA
-1
3
8
29
Payton Harding Oakville, WA
Oakville, WA
5
4
5
1C
Carter Sweatman Hoquiam, WA
Hoquiam, WA
1
5
3
1
Treycen LeCompte Elma, WA
Elma, WA
-2
6
4
87
Hudson Lutz Ephrata, WA
Ephrata, WA
-2
7
7
42
Wesley Huffines Selah, WA
Selah, WA
-
Spokane Sealed
Finish
Start
#
Competitor
Hometown
+/-
1
12
81
Keaten Tarr Spokane Valley, WA
Spokane Valley, WA
11
2
5
O61
Jim Kellogg Spokane, WA
Spokane, WA
3
3
6
26R
Brandon Baker Cheney, WA
Cheney, WA
3
4
3
88XX
Braden Dodson Spokane, ID
Spokane, ID
-1
5
2
80
Ashley Guetlin Spokane, WA
Spokane, WA
-3
6
9
29
Shaleena Almy Spokane Valley, WA
Spokane Valley, WA
3
7
4
88X
Rusty Webb Spokane Valley, WA
Spokane Valley, WA
-3
8
7
75
Ken McGuire Spokane, WA
Spokane, WA
-1
9
11
16
Glenn Knutson Quincy, WA
Quincy, WA
2
10
8
114
Harley Kellogg Spokane, WA
Spokane, WA
-2
11
1
26
Derek Almy Spokane Valley, WA
Spokane Valley, WA
-10
12
10
2
Kyle Larr Ephrata, WA
Ephrata, WA
-2
Finish
Start
#
Competitor
Hometown
+/-
1
3
16
Glenn Knutson Quincy, WA
Quincy, WA
2
2
2
81
Keaten Tarr Spokane Valley, WA
Spokane Valley, WA
-
3
1
27
Samuel Anthony Spokane, WA
Spokane, WA
-2
4
6
62
Rich Irving Spokane, WA
Spokane, WA
2
5
5
8
Bryant Routt Spokane, WA
Spokane, WA
-
6
8
93
Nathan Pugh Moses Lake, WA
Moses Lake, WA
2
7
7
14
Joshua Lord Spokane, WA
Spokane, WA
-
8
4
08
samantha varner Spokane, WA
Spokane, WA
-4
Finish
Start
#
Competitor
Hometown
+/-
1
5
88X
Rusty Webb Spokane Valley, WA
Spokane Valley, WA
4
2
4
88XX
Braden Dodson Spokane, ID
Spokane, ID
2
3
2
29
Shaleena Almy Spokane Valley, WA
Spokane Valley, WA
-1
4
6
O61
Jim Kellogg Spokane, WA
Spokane, WA
2
5
8
26R
Brandon Baker Cheney, WA
Cheney, WA
3
6
1
08
samantha varner Spokane, WA
Spokane, WA
-5
7
7
81
Keaten Tarr Spokane Valley, WA
Spokane Valley, WA
-
8
9
14
Joshua Lord Spokane, WA
Spokane, WA
1
9
3
16
Glenn Knutson Quincy, WA
Quincy, WA
-6
Finish
Start
#
Competitor
Hometown
+/-
1
4
26
Derek Almy Spokane Valley, WA
Spokane Valley, WA
3
2
6
80
Ashley Guetlin Spokane, WA
Spokane, WA
4
3
2
114
Harley Kellogg Spokane, WA
Spokane, WA
-1
4
5
75
Ken McGuire Spokane, WA
Spokane, WA
1
5
8
27
Samuel Anthony Spokane, WA
Spokane, WA
3
6
9
2
Kyle Larr Ephrata, WA
Ephrata, WA
3
7
7
8
Bryant Routt Spokane, WA
Spokane, WA
-
8
3
62
Rich Irving Spokane, WA
Spokane, WA
-5
9
1
93
Nathan Pugh Moses Lake, WA
Moses Lake, WA
-8
Finish
Start
#
Competitor
Hometown
+/-
1
2
26R
Brandon Baker Cheney, WA
Cheney, WA
1
2
4
O61
Jim Kellogg Spokane, WA
Spokane, WA
2
3
6
88XX
Braden Dodson Spokane, ID
Spokane, ID
3
4
5
75
Ken McGuire Spokane, WA
Spokane, WA
1
5
1
2
Kyle Larr Ephrata, WA
Ephrata, WA
-4
6
7
62
Rich Irving Spokane, WA
Spokane, WA
1
7
3
8
Bryant Routt Spokane, WA
Spokane, WA
-4
8
8
29
Shaleena Almy Spokane Valley, WA
Spokane Valley, WA
-
9
9
93
Nathan Pugh Moses Lake, WA
Moses Lake, WA
-
Finish
Start
#
Competitor
Hometown
+/-
1
5
26
Derek Almy Spokane Valley, WA
Spokane Valley, WA
4
2
3
80
Ashley Guetlin Spokane, WA
Spokane, WA
1
3
8
16
Glenn Knutson Quincy, WA
Quincy, WA
5
4
6
88X
Rusty Webb Spokane Valley, WA
Spokane Valley, WA
2
5
4
81
Keaten Tarr Spokane Valley, WA
Spokane Valley, WA
-1
6
1
27
Samuel Anthony Spokane, WA
Spokane, WA
-5
7
7
114
Harley Kellogg Spokane, WA
Spokane, WA
-
8
9
08
samantha varner Spokane, WA
Spokane, WA
1
9
2
14
Joshua Lord Spokane, WA
Spokane, WA
-7
Stage 2/3 4 Cycle
Finish
Start
#
Competitor
Hometown
+/-
1
1
63
Trayten Tarr Spokane, WA
Spokane, WA
-
2
4
51
Jared Storer Spokane, WA
Spokane, WA
2
3
8
81
Keaten Tarr Spokane Valley, WA
Spokane Valley, WA
5
4
6
13X
Josh Gray Stratford, WA
Stratford, WA
2
5
9
15
Michael Knutson Quincy, WA
Quincy, WA
4
6
11
12X
Mason Thompson Spokane, WA
Spokane, WA
5
7
3
13
Danica Dart Ephrata, WA
Ephrata, WA
-4
8
5
12
Jason Thomas Granite Falls, WA
Granite Falls, WA
-3
9
7
21
Haleigh Pennington Spokane, WA
Spokane, WA
-2
10
13
11
Avery Touchette Lake Stevens, WA
Lake Stevens, WA
3
11
2
5
Braeden Havens AirwayHeights, WA
AirwayHeights, WA
-9
12
12
2
Cooper Richards East Wenatchee, WA
East Wenatchee, WA
-
13
10
8
Ryan Burnett Spokane, WA
Spokane, WA
-3
Finish
Start
#
Competitor
Hometown
+/-
1
1
51
Jared Storer Spokane, WA
Spokane, WA
-
2
5
63
Trayten Tarr Spokane, WA
Spokane, WA
3
3
6
12X
Mason Thompson Spokane, WA
Spokane, WA
3
4
7
12
Jason Thomas Granite Falls, WA
Granite Falls, WA
3
5
3
81
Keaten Tarr Spokane Valley, WA
Spokane Valley, WA
-2
6
4
15
Michael Knutson Quincy, WA
Quincy, WA
-2
7
2
2
Cooper Richards East Wenatchee, WA
East Wenatchee, WA
-5
Finish
Start
#
Competitor
Hometown
+/-
1
6
21
Haleigh Pennington Spokane, WA
Spokane, WA
5
2
4
5
Braeden Havens AirwayHeights, WA
AirwayHeights, WA
2
3
2
13
Danica Dart Ephrata, WA
Ephrata, WA
-1
4
1
8
Ryan Burnett Spokane, WA
Spokane, WA
-3
5
5
13X
Josh Gray Stratford, WA
Stratford, WA
-
6
3
11
Avery Touchette Lake Stevens, WA
Lake Stevens, WA
-3
Finish
Start
#
Competitor
Hometown
+/-
1
3
63
Trayten Tarr Spokane, WA
Spokane, WA
2
2
6
13X
Josh Gray Stratford, WA
Stratford, WA
4
3
5
12
Jason Thomas Granite Falls, WA
Granite Falls, WA
2
4
4
12X
Mason Thompson Spokane, WA
Spokane, WA
-
5
2
15
Michael Knutson Quincy, WA
Quincy, WA
-3
6
1
21
Haleigh Pennington Spokane, WA
Spokane, WA
-5
Finish
Start
#
Competitor
Hometown
+/-
1
2
13
Danica Dart Ephrata, WA
Ephrata, WA
1
2
4
5
Braeden Havens AirwayHeights, WA
AirwayHeights, WA
2
3
7
51
Jared Storer Spokane, WA
Spokane, WA
4
4
6
81
Keaten Tarr Spokane Valley, WA
Spokane Valley, WA
2
5
3
2
Cooper Richards East Wenatchee, WA
East Wenatchee, WA
-2
6
1
11
Avery Touchette Lake Stevens, WA
Lake Stevens, WA
-5
7
5
8
Ryan Burnett Spokane, WA
Spokane, WA
-2
KT 100
Finish
Start
#
Competitor
Hometown
+/-
1
2
Cooper Richards East Wenatchee, WA
East Wenatchee, WA
-
2
3
02
Tyler McLeod Snohomish, WA
Snohomish, WA
1
3
2
16
Nik Larson Graham, WA
Graham, WA
-1
4
5
10
Dan Stanley Moses Lake, WA
Moses Lake, WA
1
5
1
69
Cameron Doyle East Wenatchee, WA
East Wenatchee, WA
-4
6
4
11C
Chad Sinner
-2
KT 100
Finish
Start
#
Competitor
Hometown
+/-
1
2
13
Dylan Heer Moses Lake, WA
Moses Lake, WA
1
2
4
66
Garett Colletti Kent, WA
Kent, WA
2
3
1
677
Jerry Pitts Ephrata, WA
Ephrata, WA
-2
4
8
10J
Skyler Jennings Bothell, WA
Bothell, WA
4
5
6
7
Nic Sampson Marysville, WA
Marysville, WA
1
6
5
20M
Michael Torrisi Marysville, WA
Marysville, WA
-1
7
10
16
Glenn Knutson Quincy, WA
Quincy, WA
3
8
9
56
Chris Cort Lake Stevens, WA
Lake Stevens, WA
1
9
3
8C
Chad Lindsey Wilsonville, OR
Wilsonville, OR
-6
Finish
Start
#
Competitor
Hometown
+/-
1
1
66
Garett Colletti Kent, WA
Kent, WA
-
2
6
8C
Chad Lindsey Wilsonville, OR
Wilsonville, OR
4
3
3
20M
Michael Torrisi Marysville, WA
Marysville, WA
-
4
2
56
Chris Cort Lake Stevens, WA
Lake Stevens, WA
-2
5
4
7
Nic Sampson Marysville, WA
Marysville, WA
-1
Finish
Start
#
Competitor
Hometown
+/-
1
5
13
Dylan Heer Moses Lake, WA
Moses Lake, WA
4
2
2
8C
Chad Lindsey Wilsonville, OR
Wilsonville, OR
-
3
4
7
Nic Sampson Marysville, WA
Marysville, WA
1
4
3
671
Bamba Eddie Monroe, WA
Monroe, WA
-1
5
6
56
Chris Cort Lake Stevens, WA
Lake Stevens, WA
1
6
1
10J
Skyler Jennings Bothell, WA
Bothell, WA
-5
Super Mod 4 Cycle
Finish
Start
#
Competitor
Hometown
+/-
1
1
9
Ronnie Cox Bothell, WA
Bothell, WA
-
2
4
21
Andy Pellham Everett, WA
Everett, WA
2
3
2
13
Dylan Heer Moses Lake, WA
Moses Lake, WA
-1
4
10
3
Paul Hoppe Sedro-woolley, WA
Sedro-woolley, WA
6
5
5
26
Derek Almy Spokane Valley, WA
Spokane Valley, WA
-
6
11
17
Travis Hawthorne Lake Stevens, WA
Lake Stevens, WA
5
7
8
12
Reesen Tarr Spokane, WA
Spokane, WA
1
8
12
28
Trayten Tarr Spokane, WA
Spokane, WA
4
9
7
02
Tyler McLeod Snohomish, WA
Snohomish, WA
-2
10
3
51
Jared Storer Spokane, WA
Spokane, WA
-7
11
6
24
Matt Dugas Bridgeport, WA
Bridgeport, WA
-5
12
9
83
Braeden Havens AirwayHeights, WA
AirwayHeights, WA
-3
Finish
Start
#
Competitor
Hometown
+/-
1
6
17
Travis Hawthorne Lake Stevens, WA
Lake Stevens, WA
5
2
2
28
Trayten Tarr Spokane, WA
Spokane, WA
-
3
3
33
Alec Bedard Spokane, WA
Spokane, WA
-
4
5
131
Derek Amundson Blaine, WA
Blaine, WA
1
5
4
7X
Larry Christen Spokane, WA
Spokane, WA
-1
6
7
8
Chloe Hudson Snohomish, WA
Snohomish, WA
1
7
8
45
David McClaughry Marysville, WA
Marysville, WA
1
Finish
Start
#
Competitor
Hometown
+/-
1
9
Ronnie Cox Bothell, WA
Bothell, WA
-
2
13
Dylan Heer Moses Lake, WA
Moses Lake, WA
-
3
26
Derek Almy Spokane Valley, WA
Spokane Valley, WA
-
4
12
Reesen Tarr Spokane, WA
Spokane, WA
-
5
51
Jared Storer Spokane, WA
Spokane, WA
-
6
1
3
Paul Hoppe Sedro-woolley, WA
Sedro-woolley, WA
-5
7
24
Matt Dugas Bridgeport, WA
Bridgeport, WA
-
Finish
Start
#
Competitor
Hometown
+/-
1
1
28
Trayten Tarr Spokane, WA
Spokane, WA
-
2
83
Braeden Havens AirwayHeights, WA
AirwayHeights, WA
-
3
21
Andy Pellham Everett, WA
Everett, WA
-
4
02
Tyler McLeod Snohomish, WA
Snohomish, WA
-
5
26X
Jeff Babcock Monroe, WA
Monroe, WA
-
6
33
Alec Bedard Spokane, WA
Spokane, WA
-
7
131
Derek Amundson Blaine, WA
Blaine, WA
-
8
7X
Larry Christen Spokane, WA
Spokane, WA
-
9
8
Chloe Hudson Snohomish, WA
Snohomish, WA
-
Finish
Start
#
Competitor
Hometown
+/-
1
2
9
Ronnie Cox Bothell, WA
Bothell, WA
1
2
5
13
Dylan Heer Moses Lake, WA
Moses Lake, WA
3
3
9
21
Andy Pellham Everett, WA
Everett, WA
6
4
1
17
Travis Hawthorne Lake Stevens, WA
Lake Stevens, WA
-3
5
8
02
Tyler McLeod Snohomish, WA
Snohomish, WA
3
6
3
7X
Larry Christen Spokane, WA
Spokane, WA
-3
7
4
131
Derek Amundson Blaine, WA
Blaine, WA
-3
8
7
8
Chloe Hudson Snohomish, WA
Snohomish, WA
-1
Finish
Start
#
Competitor
Hometown
+/-
1
7
51
Jared Storer Spokane, WA
Spokane, WA
6
2
4
24
Matt Dugas Bridgeport, WA
Bridgeport, WA
2
3
1
26
Derek Almy Spokane Valley, WA
Spokane Valley, WA
-2
4
6
3
Paul Hoppe Sedro-woolley, WA
Sedro-woolley, WA
2
5
3
26X
Jeff Babcock Monroe, WA
Monroe, WA
-2
6
8
12
Reesen Tarr Spokane, WA
Spokane, WA
2
7
2
33
Alec Bedard Spokane, WA
Spokane, WA
-5
8
5
83
Braeden Havens AirwayHeights, WA
AirwayHeights, WA
-3
9
9
45
David McClaughry Marysville, WA
Marysville, WA
-
1/4 Midget Open Motor Class
Finish
Start
#
Competitor
Hometown
+/-
1
1
29
Payton Harding Oakville, WA
Oakville, WA
-
2
4
05
Kaidyn Moran Kennewick, WA
Kennewick, WA
2
3
2
55
Jordan Devries Concrete, WA
Concrete, WA
-1
4
5
S11
Tucker Shoemaker Selah, WA
Selah, WA
1
5
3
1C
Carter Sweatman Hoquiam, WA
Hoquiam, WA
-2
Finish
Start
#
Competitor
Hometown
+/-
1
1
55
Jordan Devries Concrete, WA
Concrete, WA
-
2
2
29
Payton Harding Oakville, WA
Oakville, WA
-
3
5
S11
Tucker Shoemaker Selah, WA
Selah, WA
2
4
3
05
Kaidyn Moran Kennewick, WA
Kennewick, WA
-1
5
4
1C
Carter Sweatman Hoquiam, WA
Hoquiam, WA
-1
Finish
Start
#
Competitor
Hometown
+/-
1
2
S11
Tucker Shoemaker Selah, WA
Selah, WA
1
2
3
55
Jordan Devries Concrete, WA
Concrete, WA
1
3
4
29
Payton Harding Oakville, WA
Oakville, WA
1
4
5
1C
Carter Sweatman Hoquiam, WA
Hoquiam, WA
1
5
1
05
Kaidyn Moran Kennewick, WA
Kennewick, WA
-4
Open Pro
Finish
Start
#
Competitor
Hometown
+/-
1
9
Ronnie Cox Bothell, WA
Bothell, WA
-
2
21
Andy Pellham Everett, WA
Everett, WA
-
3
13
Dylan Heer Moses Lake, WA
Moses Lake, WA
-
4
3
Paul Hoppe Sedro-woolley, WA
Sedro-woolley, WA
-
5
26
Derek Almy Spokane Valley, WA
Spokane Valley, WA
-
6
17
Travis Hawthorne Lake Stevens, WA
Lake Stevens, WA
-
7
69
Trayten Tarr Spokane, WA
Spokane, WA
-
8
91
Reesen Tarr Spokane, WA
Spokane, WA
-
9
02
Tyler McLeod Snohomish, WA
Snohomish, WA
-
10
51
Jared Storer Spokane, WA
Spokane, WA
-
11
24
Matt Dugas Bridgeport, WA
Bridgeport, WA
-
12
83
Braeden Havens AirwayHeights, WA
AirwayHeights, WA
-
Finish
Start
#
Competitor
Hometown
+/-
1
17
Travis Hawthorne Lake Stevens, WA
Lake Stevens, WA
-
2
69
Trayten Tarr Spokane, WA
Spokane, WA
-
3
33
Alec Bedard Spokane, WA
Spokane, WA
-
4
131
Derek Amundson Blaine, WA
Blaine, WA
-
5
7X
Larry Christen Spokane, WA
Spokane, WA
-
6
8
Chloe Hudson Snohomish, WA
Snohomish, WA
-
7
45
David McClaughry Marysville, WA
Marysville, WA
-
Finish
Start
#
Competitor
Hometown
+/-
1
9
Ronnie Cox Bothell, WA
Bothell, WA
-
2
13
Dylan Heer Moses Lake, WA
Moses Lake, WA
-
3
26
Derek Almy Spokane Valley, WA
Spokane Valley, WA
-
4
91
Reesen Tarr Spokane, WA
Spokane, WA
-
5
51
Jared Storer Spokane, WA
Spokane, WA
-
6
3
Paul Hoppe Sedro-woolley, WA
Sedro-woolley, WA
-
7
24
Matt Dugas Bridgeport, WA
Bridgeport, WA
-
Finish
Start
#
Competitor
Hometown
+/-
1
69
Trayten Tarr Spokane, WA
Spokane, WA
-
2
83
Braeden Havens AirwayHeights, WA
AirwayHeights, WA
-
3
21
Andy Pellham Everett, WA
Everett, WA
-
4
02
Tyler McLeod Snohomish, WA
Snohomish, WA
-
5
26X
Jeff Babcock Monroe, WA
Monroe, WA
-
6
33
Alec Bedard Spokane, WA
Spokane, WA
-
7
131
Derek Amundson Blaine, WA
Blaine, WA
-
8
7X
Larry Christen Spokane, WA
Spokane, WA
-
9
8
Chloe Hudson Snohomish, WA
Snohomish, WA
-
Finish
Start
#
Competitor
Hometown
+/-
1
9
Ronnie Cox Bothell, WA
Bothell, WA
-
2
13
Dylan Heer Moses Lake, WA
Moses Lake, WA
-
3
21
Andy Pellham Everett, WA
Everett, WA
-
4
17
Travis Hawthorne Lake Stevens, WA
Lake Stevens, WA
-
5
02
Tyler McLeod Snohomish, WA
Snohomish, WA
-
6
7X
Larry Christen Spokane, WA
Spokane, WA
-
7
131
Derek Amundson Blaine, WA
Blaine, WA
-
8
8
Chloe Hudson Snohomish, WA
Snohomish, WA
-
Finish
Start
#
Competitor
Hometown
+/-
1
51
Jared Storer Spokane, WA
Spokane, WA
-
2
24
Matt Dugas Bridgeport, WA
Bridgeport, WA
-
3
26
Derek Almy Spokane Valley, WA
Spokane Valley, WA
-
4
3
Paul Hoppe Sedro-woolley, WA
Sedro-woolley, WA
-
5
26X
Jeff Babcock Monroe, WA
Monroe, WA
-
6
91
Reesen Tarr Spokane, WA
Spokane, WA
-
7
33
Alec Bedard Spokane, WA
Spokane, WA
-
8
83
Braeden Havens AirwayHeights, WA
AirwayHeights, WA
-
9
45
David McClaughry Marysville, WA
Marysville, WA
-