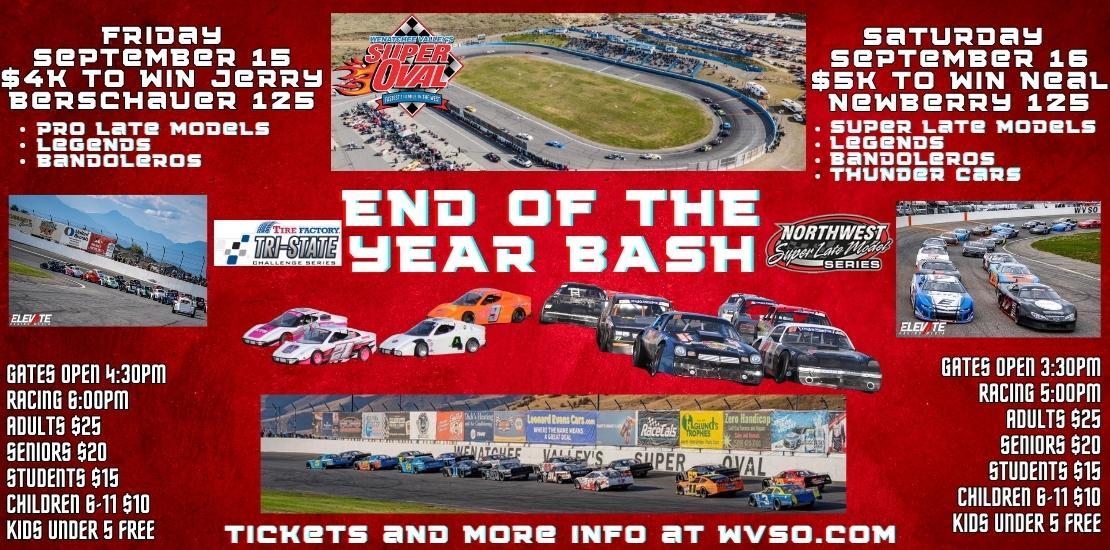 8/25/2023 -
It's one of the biggest weekends of racing in the Northwest for the End of the Year Bash at WVSO Friday September 15 & Saturday September 16. Tickets,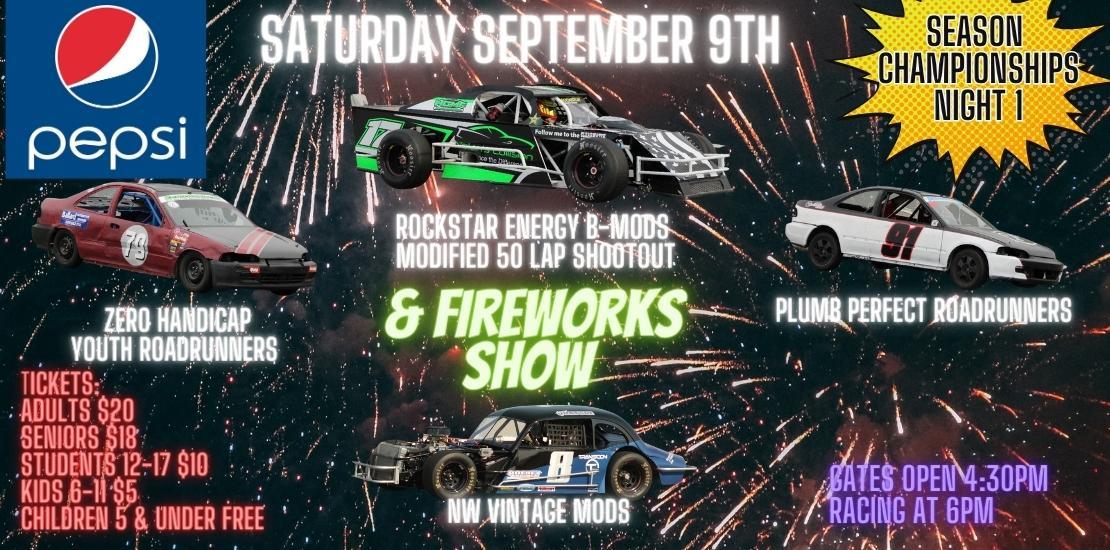 8/22/2023 -
Don't miss Saturday September 9th for Season Chamopionships Night #1 as we start to wrap up the year with Pepsi Fireworks Night. We will have a full n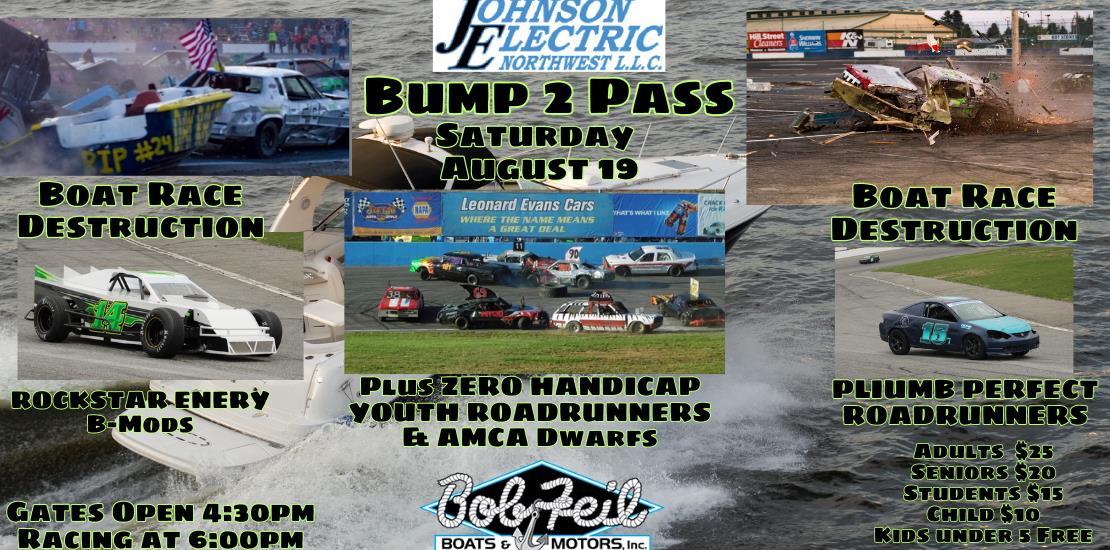 8/15/2023 -
Don't miss Saturday August 19th for the Johnson Electrict Bump 2 Pass and Boat Race Destruction night. It's a full night of carnage and fun. Plus a fu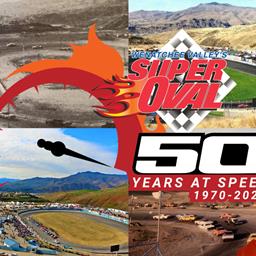 4/23/2022 - Wenatchee Valley Super Oval
Wenatchee, WA
Tommy Wentz Classic
The Third Annual Tommy Wentz Classic featuring the Tri State Challenge race #1 for the THunder/Hobby Cars. The Tri State Challenge Mini Stocks will be joined with NW Pro 4 Trucks and Plumb Perfect Roadrunners.
*No outside food or drinks Bleacher Seating and Grass Hill seating- no raised chairs in general admission sections *
Dick's Heating and Air Conditioning Thunder Cars

21 entries

Rockstar Energy B-Mods

13 entries

Plumb Perfect Roadrunners

15 entries

NW Pro 4 Trucks

11 entries

Tri State Mini Stock Tour

13 entries
News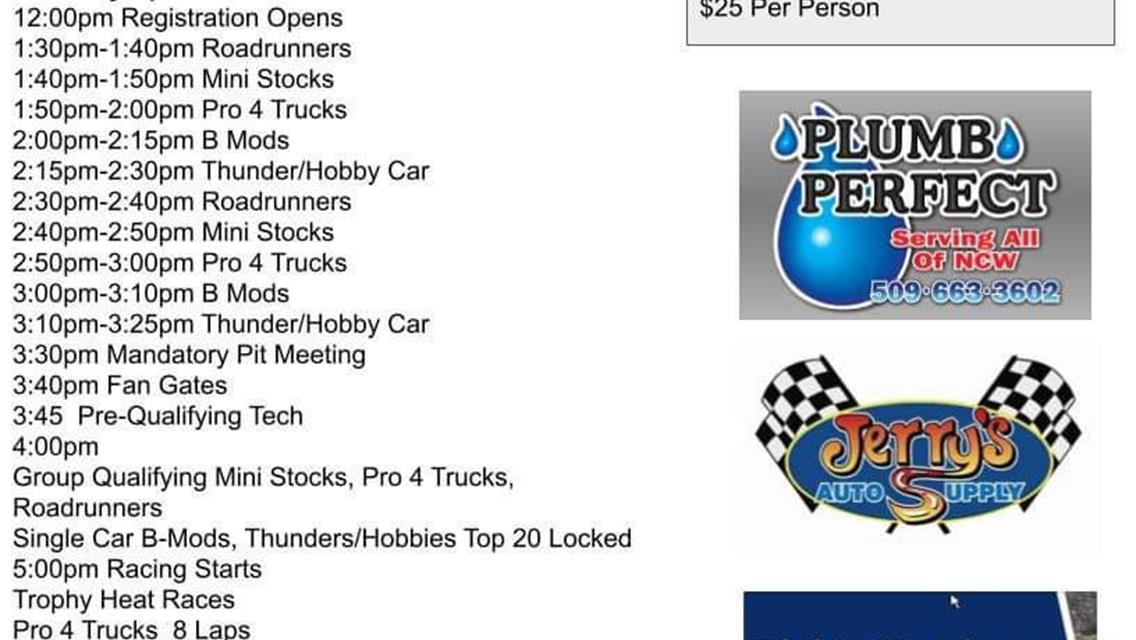 Here's the weekend schedule at WVSO for April 22-23.
Full Event Information on MyRacePass
Dick's Heating and Air Conditioning Thunder Cars
60 Laps
Tommy Wentz Classic
Finish
Start
#
Competitor
Hometown
+/-
1
6
7
Dillon Huffines Selah, WA
Selah, WA
5
2
5
54
Jesse Vincent Yakima, WA
Yakima, WA
3
3
1
05
JJ Moore Yakima, WA
Yakima, WA
-2
4
3
48
Jerry Miller Yakima, WA
Yakima, WA
-1
5
8
26X
Cameron Doyle East Wenatchee, WA
East Wenatchee, WA
3
6
7
12
Luke Schall Wenatchee, WA
Wenatchee, WA
1
7
4
4X
Josh Musgrove malaga, WA
malaga, WA
-3
8
2
68
Bart Hector Jr Ephrata, WA
Ephrata, WA
-6
9
10
03
Casey Cavender Naples, ID
Naples, ID
1
10
18
92
Eric Lund Lind, WA
Lind, WA
8
11
16
24
Austin Weber Moses Lake, WA
Moses Lake, WA
5
12
12
14
Richard Peters Yakima, WA
Yakima, WA
-
13
13
55
Andrew Aper South Cle Elum, WA
South Cle Elum, WA
-
14
15
55K
Dennis Kennedy Wenatchee, WA
Wenatchee, WA
1
15
9
14Z
Jim Zorrozua Union Gap , WA
Union Gap , WA
-6
16
11
18
Jesse Salazar San Antonio, TX
San Antonio, TX
-5
17
14
11
John Samuels Naches, WA
Naches, WA
-3
Finish
Start
#
Competitor
Hometown
+/-
1
7
14
Richard Peters Yakima, WA
Yakima, WA
6
2
6
55
Andrew Aper South Cle Elum, WA
South Cle Elum, WA
4
3
4
55K
Dennis Kennedy Wenatchee, WA
Wenatchee, WA
1
4
5
11
John Samuels Naches, WA
Naches, WA
1
5
3
24
Austin Weber Moses Lake, WA
Moses Lake, WA
-2
Finish
Start
#
Competitor
Hometown
+/-
1
4
68
Bart Hector Jr Ephrata, WA
Ephrata, WA
3
2
1
03
Casey Cavender Naples, ID
Naples, ID
-1
3
10
26X
Cameron Doyle East Wenatchee, WA
East Wenatchee, WA
7
4
3
05
JJ Moore Yakima, WA
Yakima, WA
-1
5
6
4X
Josh Musgrove malaga, WA
malaga, WA
1
6
8
7
Dillon Huffines Selah, WA
Selah, WA
2
7
9
12
Luke Schall Wenatchee, WA
Wenatchee, WA
2
Finish
Start
#
Competitor
Hometown
Time
1
5
26X
Cameron Doyle East Wenatchee, WA
East Wenatchee, WA
14.715
2
16
12
Luke Schall Wenatchee, WA
Wenatchee, WA
14.811
3
8
7
Dillon Huffines Selah, WA
Selah, WA
14.923
4
17
54
Jesse Vincent Yakima, WA
Yakima, WA
14.931
5
12
4X
Josh Musgrove malaga, WA
malaga, WA
14.940
6
10
48
Jerry Miller Yakima, WA
Yakima, WA
14.967
7
7
68
Bart Hector Jr Ephrata, WA
Ephrata, WA
15.003
8
11
05
JJ Moore Yakima, WA
Yakima, WA
15.048
9
20
14Z
Jim Zorrozua Union Gap , WA
Union Gap , WA
15.067
10
4
03
Casey Cavender Naples, ID
Naples, ID
15.068
11
14
18
Jesse Salazar San Antonio, TX
San Antonio, TX
15.085
12
13
14
Richard Peters Yakima, WA
Yakima, WA
15.177
13
2
55
Andrew Aper South Cle Elum, WA
South Cle Elum, WA
15.222
14
15
11
John Samuels Naches, WA
Naches, WA
15.592
15
1
55K
Dennis Kennedy Wenatchee, WA
Wenatchee, WA
15.665
16
18
24
Austin Weber Moses Lake, WA
Moses Lake, WA
15.763
17
19
04
Garrett Williams Yakima, WA
Yakima, WA
15.823
18
9
92
Eric Lund Lind, WA
Lind, WA
16.009
All transfer
Rockstar Energy B-Mods
Finish
Start
#
Competitor
Hometown
+/-
1
10
99
Shane Mitchell East Wenatchee, WA
East Wenatchee, WA
9
2
12
68
Bart Hector Jr Ephrata, WA
Ephrata, WA
10
3
11
31
Chad Holaday Wenatchee, WA
Wenatchee, WA
8
4
8
16
Glenn Knutson Quincy, WA
Quincy, WA
4
5
2
21
Cole Walker East Wenatchee, WA
East Wenatchee, WA
-3
6
9
63
Gary Shales Wenatchee, WA
Wenatchee, WA
3
7
3
01
Brandon Knouf Wenatchee, WA
Wenatchee, WA
-4
8
5
5
Donovan Stevens East Wenatchee, WA
East Wenatchee, WA
-3
9
4
33
Colby Holaday Wenatchee, WA
Wenatchee, WA
-5
10
1
03
Trey gooch Wenatchee, WA
Wenatchee, WA
-9
11
6
98
Trucker Moore Wenatchee, WA
Wenatchee, WA
-5
12
7
86
BJ Tidrick Kennewick, WA
Kennewick, WA
-5
13
13
43
Rick Shaver Camano Island, WA
Camano Island, WA
-
Finish
Start
#
Competitor
Hometown
+/-
1
5
33
Colby Holaday Wenatchee, WA
Wenatchee, WA
4
2
6
5
Donovan Stevens East Wenatchee, WA
East Wenatchee, WA
4
3
4
01
Brandon Knouf Wenatchee, WA
Wenatchee, WA
1
4
3
21
Cole Walker East Wenatchee, WA
East Wenatchee, WA
-1
5
2
03
Trey gooch Wenatchee, WA
Wenatchee, WA
-3
6
1
43
Rick Shaver Camano Island, WA
Camano Island, WA
-5
Finish
Start
#
Competitor
Hometown
+/-
1
2
86
BJ Tidrick Kennewick, WA
Kennewick, WA
1
2
4
63
Gary Shales Wenatchee, WA
Wenatchee, WA
2
3
6
31
Chad Holaday Wenatchee, WA
Wenatchee, WA
3
4
1
98
Trucker Moore Wenatchee, WA
Wenatchee, WA
-3
5
5
99
Shane Mitchell East Wenatchee, WA
East Wenatchee, WA
-
6
3
16
Glenn Knutson Quincy, WA
Quincy, WA
-3
7
7
68
Bart Hector Jr Ephrata, WA
Ephrata, WA
-
Finish
Start
#
Competitor
Hometown
Time
1
2
68
Bart Hector Jr Ephrata, WA
Ephrata, WA
13.479
2
3
31
Chad Holaday Wenatchee, WA
Wenatchee, WA
13.491
3
7
99
Shane Mitchell East Wenatchee, WA
East Wenatchee, WA
13.586
4
9
63
Gary Shales Wenatchee, WA
Wenatchee, WA
13.691
5
6
16
Glenn Knutson Quincy, WA
Quincy, WA
13.704
6
12
86
BJ Tidrick Kennewick, WA
Kennewick, WA
13.766
7
8
98
Trucker Moore Wenatchee, WA
Wenatchee, WA
13.803
8
11
5
Donovan Stevens East Wenatchee, WA
East Wenatchee, WA
13.877
9
4
33
Colby Holaday Wenatchee, WA
Wenatchee, WA
13.983
10
5
01
Brandon Knouf Wenatchee, WA
Wenatchee, WA
14.075
11
13
21
Cole Walker East Wenatchee, WA
East Wenatchee, WA
14.085
12
1
03
Trey gooch Wenatchee, WA
Wenatchee, WA
14.137
13
10
43
Rick Shaver Camano Island, WA
Camano Island, WA
14.716
All transfer
Plumb Perfect Roadrunners
Finish
Start
#
Competitor
Hometown
+/-
1
8
117
Patrick Di Bari Spokane, WA
Spokane, WA
7
2
14
32
Jay Evans Wenatchee, WA
Wenatchee, WA
12
3
7
1
Terry Cook Indianapolis, IN
Indianapolis, IN
4
4
6
14
Masen Hagood Ephrata, WA
Ephrata, WA
2
5
15
15
Jayson Walker East Wenatchee, WA
East Wenatchee, WA
10
6
5
55K
Kyle Spaulding East Wenatchee, WA
East Wenatchee, WA
-1
7
9
2
RT Greiner East Wenatchee, WA
East Wenatchee, WA
2
8
2
20
Christian Foster Soap Lake, WA
Soap Lake, WA
-6
9
4
85
Sean Wallace Quincy, WA
Quincy, WA
-5
10
12
20X
Benjamin Bahadar Lacrosse, WA
Lacrosse, WA
2
11
11
17
Wallace Baker East Wenatchee, WA
East Wenatchee, WA
-
12
10
16
Laila Arneson Soap Lake, WA
Soap Lake, WA
-2
13
1
7
Breanna Macken Moses Lake, WA
Moses Lake, WA
-12
14
3
99
Tommy Craig Wenatchee, WA
Wenatchee, WA
-11
Finish
Start
#
Competitor
Hometown
+/-
1
4
117
Patrick Di Bari Spokane, WA
Spokane, WA
3
2
8
32
Jay Evans Wenatchee, WA
Wenatchee, WA
6
3
3
14
Masen Hagood Ephrata, WA
Ephrata, WA
-
4
2
85
Sean Wallace Quincy, WA
Quincy, WA
-2
5
1
20
Christian Foster Soap Lake, WA
Soap Lake, WA
-4
6
5
2
RT Greiner East Wenatchee, WA
East Wenatchee, WA
-1
7
6
17
Wallace Baker East Wenatchee, WA
East Wenatchee, WA
-1
Finish
Start
#
Competitor
Hometown
+/-
1
4
1
Terry Cook Indianapolis, IN
Indianapolis, IN
3
2
7
15
Jayson Walker East Wenatchee, WA
East Wenatchee, WA
5
3
3
55K
Kyle Spaulding East Wenatchee, WA
East Wenatchee, WA
-
4
6
20X
Benjamin Bahadar Lacrosse, WA
Lacrosse, WA
2
5
5
16
Laila Arneson Soap Lake, WA
Soap Lake, WA
-
6
2
99
Tommy Craig Wenatchee, WA
Wenatchee, WA
-4
7
1
7
Breanna Macken Moses Lake, WA
Moses Lake, WA
-6
Finish
Start
#
Competitor
Hometown
Time
1
6
117
Patrick Di Bari Spokane, WA
Spokane, WA
16.835
2
4
1
Terry Cook Indianapolis, IN
Indianapolis, IN
17.122
3
10
14
Masen Hagood Ephrata, WA
Ephrata, WA
17.166
4
13
55K
Kyle Spaulding East Wenatchee, WA
East Wenatchee, WA
17.167
5
15
85
Sean Wallace Quincy, WA
Quincy, WA
17.356
6
5
99
Tommy Craig Wenatchee, WA
Wenatchee, WA
17.441
7
8
20
Christian Foster Soap Lake, WA
Soap Lake, WA
17.690
8
11
7
Breanna Macken Moses Lake, WA
Moses Lake, WA
17.779
9
9
2
RT Greiner East Wenatchee, WA
East Wenatchee, WA
18.350
10
12
52
Jamy Macken Moses Lake, WA
Moses Lake, WA
18.741
11
1
16
Laila Arneson Soap Lake, WA
Soap Lake, WA
18.915
12
3
17
Wallace Baker East Wenatchee, WA
East Wenatchee, WA
18.930
DQ
7
32
Jay Evans Wenatchee, WA
Wenatchee, WA
16.678
DQ
14
15
Jayson Walker East Wenatchee, WA
East Wenatchee, WA
16.736
All transfer
NW Pro 4 Trucks
Finish
Start
#
Competitor
Hometown
+/-
1
8
24
Mckenna Cox Arlington, WA
Arlington, WA
7
2
5
17
Mike Wiley Long Branch, WA
Long Branch, WA
3
3
6
18
Brooklynne Bender Snohomish, WA
Snohomish, WA
3
4
1
8
Shane Greene Seattle, WA
Seattle, WA
-3
5
3
35
Haylie Wilkinson Lake Stevens, WA
Lake Stevens, WA
-2
6
4
6
Aaron Greene
-2
7
2
20
Riley Ruddell Gold Bar, WA
Gold Bar, WA
-5
8
7
98
Chris Whisman Stanwood, WA
Stanwood, WA
-1
9
10
7
Matt Greene Snohomish, WA
Snohomish, WA
1
10
9
9
Greg Vaughn Arlington, WA
Arlington, WA
-1
Finish
Start
#
Competitor
Hometown
+/-
1
2
7
Matt Greene Snohomish, WA
Snohomish, WA
1
2
4
8
Shane Greene Seattle, WA
Seattle, WA
2
3
5
20
Riley Ruddell Gold Bar, WA
Gold Bar, WA
2
4
1
27
Kimmi Wilkinson Lake Stevens, WA
Lake Stevens, WA
-3
5
3
9
Greg Vaughn Arlington, WA
Arlington, WA
-2
Finish
Start
#
Competitor
Hometown
+/-
1
2
6
Aaron Greene
1
2
5
98
Chris Whisman Stanwood, WA
Stanwood, WA
3
3
3
17
Mike Wiley Long Branch, WA
Long Branch, WA
-
4
6
24
Mckenna Cox Arlington, WA
Arlington, WA
2
5
1
35
Haylie Wilkinson Lake Stevens, WA
Lake Stevens, WA
-4
6
4
18
Brooklynne Bender Snohomish, WA
Snohomish, WA
-2
Finish
Start
#
Competitor
Hometown
Time
1
1
24
Mckenna Cox Arlington, WA
Arlington, WA
14.860
2
7
98
Chris Whisman Stanwood, WA
Stanwood, WA
14.971
3
11
18
Brooklynne Bender Snohomish, WA
Snohomish, WA
15.041
4
8
17
Mike Wiley Long Branch, WA
Long Branch, WA
15.076
5
2
6
Aaron Greene
15.164
6
9
35
Haylie Wilkinson Lake Stevens, WA
Lake Stevens, WA
15.262
7
5
20
Riley Ruddell Gold Bar, WA
Gold Bar, WA
15.382
8
4
8
Shane Greene Seattle, WA
Seattle, WA
15.404
9
6
9
Greg Vaughn Arlington, WA
Arlington, WA
15.914
10
3
7
Matt Greene Snohomish, WA
Snohomish, WA
16.003
11
10
27
Kimmi Wilkinson Lake Stevens, WA
Lake Stevens, WA
16.258
Tri State Mini Stock Tour
Finish
Start
#
Competitor
Hometown
+/-
1
11
96
KC Garber Spokane, WA
Spokane, WA
10
2
9
69
Zandar Peters Graham, WA
Graham, WA
7
3
10
00
Brad Rhoads Pasco, WA
Pasco, WA
7
4
8
22X
Armando Gomez Valleyford , WA
Valleyford , WA
4
5
7
23
Travis Barnes Olymipia, WA
Olymipia, WA
2
6
6
66
Bart Hector Jr Ephrata, WA
Ephrata, WA
-
7
3
22A
Rick Ackerman grahm, WA
grahm, WA
-4
8
4
99
Jeffrey Henderson Yelm, WA
Yelm, WA
-4
9
2
3
Cole Schultz Spokane, WA
Spokane, WA
-7
10
12
78X
Sheldon Lakey Selah, WA
Selah, WA
2
11
1
88
Ryan Macleod Puyallup, WA
Puyallup, WA
-10
12
5
2
Issiah Gill Tacoma, WA
Tacoma, WA
-7
13
13
78
Patrick Di Bari Spokane, WA
Spokane, WA
-
Finish
Start
#
Competitor
Hometown
+/-
1
6
2
Issiah Gill Tacoma, WA
Tacoma, WA
5
2
2
88
Ryan Macleod Puyallup, WA
Puyallup, WA
-
3
3
3
Cole Schultz Spokane, WA
Spokane, WA
-
4
1
78X
Sheldon Lakey Selah, WA
Selah, WA
-3
5
7
78
Patrick Di Bari Spokane, WA
Spokane, WA
2
6
9
22X
Armando Gomez Valleyford , WA
Valleyford , WA
3
Finish
Start
#
Competitor
Hometown
Time
1
4
96
KC Garber Spokane, WA
Spokane, WA
14.378
2
12
00
Brad Rhoads Pasco, WA
Pasco, WA
14.527
3
11
69
Zandar Peters Graham, WA
Graham, WA
14.572
4
6
22X
Armando Gomez Valleyford , WA
Valleyford , WA
14.731
5
2
23
Travis Barnes Olymipia, WA
Olymipia, WA
14.733
6
7
66
Bart Hector Jr Ephrata, WA
Ephrata, WA
14.752
7
5
2
Issiah Gill Tacoma, WA
Tacoma, WA
14.783
8
8
99
Jeffrey Henderson Yelm, WA
Yelm, WA
14.826
9
1
22A
Rick Ackerman grahm, WA
grahm, WA
14.970
10
13
3
Cole Schultz Spokane, WA
Spokane, WA
15.009
11
10
88
Ryan Macleod Puyallup, WA
Puyallup, WA
15.127
12
9
78X
Sheldon Lakey Selah, WA
Selah, WA
16.006