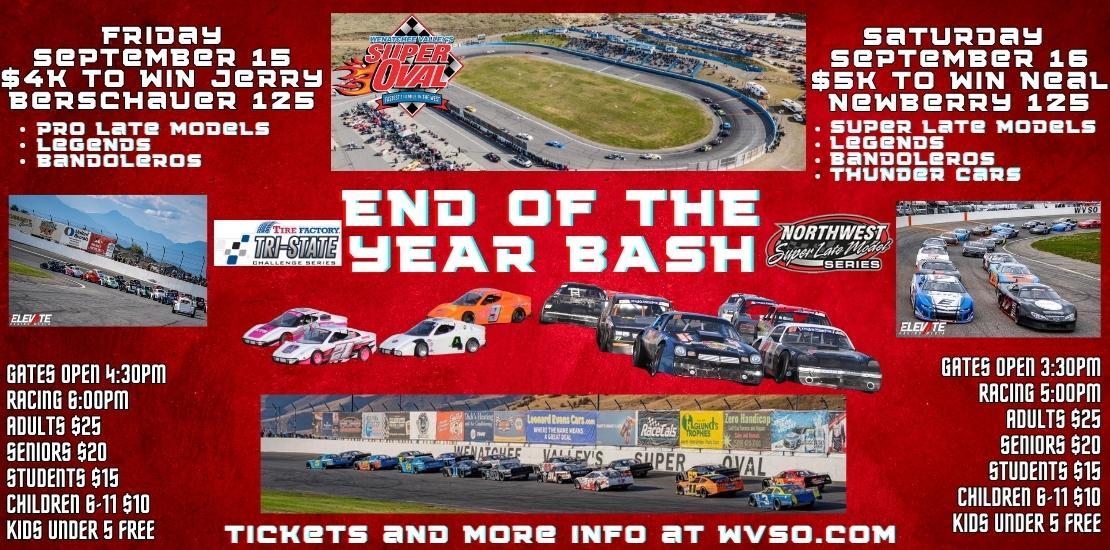 8/25/2023 -
It's one of the biggest weekends of racing in the Northwest for the End of the Year Bash at WVSO Friday September 15 & Saturday September 16. Tickets,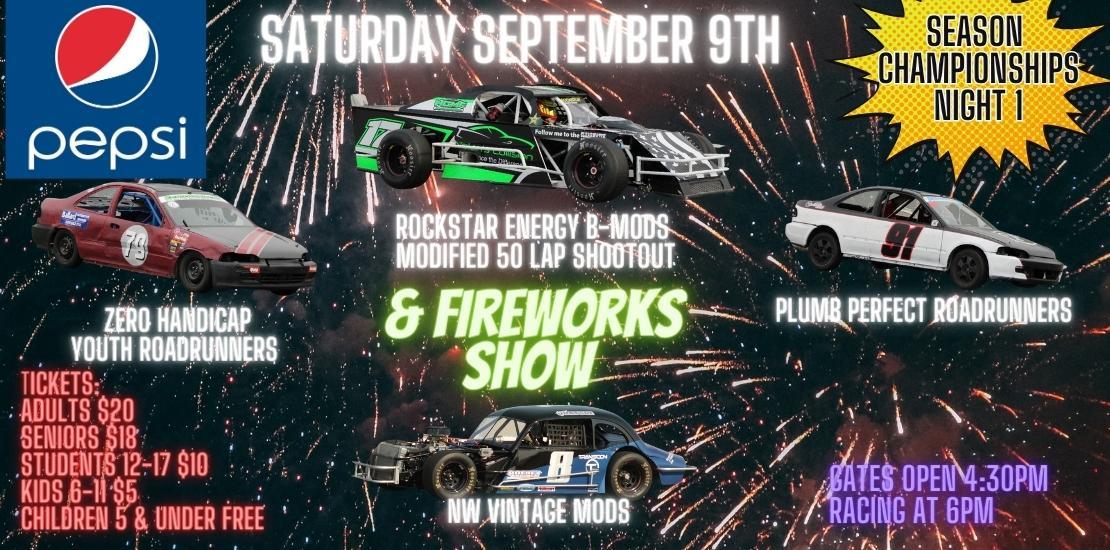 8/22/2023 -
Don't miss Saturday September 9th for Season Chamopionships Night #1 as we start to wrap up the year with Pepsi Fireworks Night. We will have a full n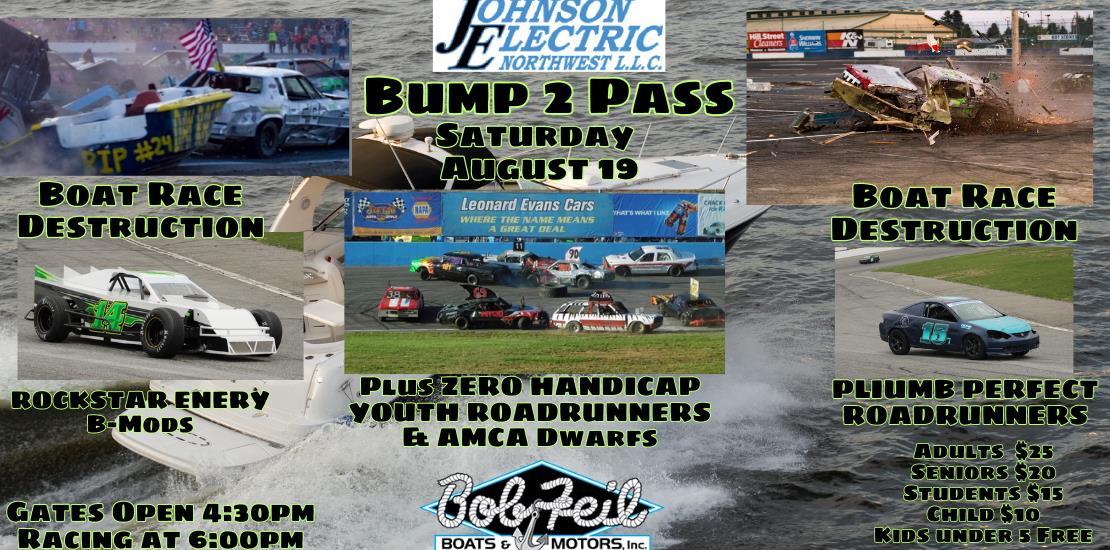 8/15/2023 -
Don't miss Saturday August 19th for the Johnson Electrict Bump 2 Pass and Boat Race Destruction night. It's a full night of carnage and fun. Plus a fu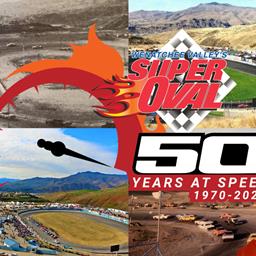 7/16/2022 - Wenatchee Valley Super Oval
Wenatchee, WA
Thunder in the Valley Presented by Clearwater Saloon & Casino
Gates Open at 4:30pm
Racing at 6:00pm
No Outside Food or Beverage
Open Grandstand Seating-Lawnchairs and Blankets allowed on grassy turn 1 hill.
Thunder in the Valley is one of the biggest open wheel racing events in the Northwest featuring a Sprint Car Shootout with Speedtour Sprint Car Series, Rockstar Energy B-Modified Mayhem Race, Northwest Focus Midgets and West Coast Vintage Racers.
Rockstar Energy B-Mods

15 entries

Rockstar Energy B-Mods & Speedtour Mods

15 entries

Sprint Car Shootout

13 entries

West Coast Vintage Racers

10 entries

Northwest Focus Midgets

16 entries
Full Event Information on MyRacePass
Rockstar Energy B-Mods
Finish
Start
#
Competitor
Hometown
+/-
1
10
99
Shane Mitchell East Wenatchee, WA
East Wenatchee, WA
9
2
11
98
Trucker Moore Wenatchee, WA
Wenatchee, WA
9
3
5
33
Colby Holaday Wenatchee, WA
Wenatchee, WA
2
4
2
68
Bart Hector Jr Ephrata, WA
Ephrata, WA
-2
5
7
16
Glenn Knutson Quincy, WA
Quincy, WA
2
6
3
86
Bart Hector Sr Ephrada, WA
Ephrada, WA
-3
7
14
5
Donovan Stevens East Wenatchee, WA
East Wenatchee, WA
7
8
8
57
David Macken Moses Lake, WA
Moses Lake, WA
-
9
13
17
Kyle Steinburg Wenatchee, WA
Wenatchee, WA
4
10
9
25
Randy Marshall Jr Moxee, WA
Moxee, WA
-1
11
1
03
Trey gooch Wenatchee, WA
Wenatchee, WA
-10
12
6
01
Brandon Knouf Wenatchee, WA
Wenatchee, WA
-6
13
4
31
Chad Holaday Wenatchee, WA
Wenatchee, WA
-9
14
15
21
Cole Walker East Wenatchee, WA
East Wenatchee, WA
1
15
12
43
Rick Shaver Camano Island, WA
Camano Island, WA
-3
Finish
Start
#
Competitor
Hometown
+/-
1
1
17
Kyle Steinburg Wenatchee, WA
Wenatchee, WA
-
2
2
03
Trey gooch Wenatchee, WA
Wenatchee, WA
-
3
3
01
Brandon Knouf Wenatchee, WA
Wenatchee, WA
-
4
4
57
David Macken Moses Lake, WA
Moses Lake, WA
-
5
5
5
Donovan Stevens East Wenatchee, WA
East Wenatchee, WA
-
6
6
98
Trucker Moore Wenatchee, WA
Wenatchee, WA
-
7
7
21
Cole Walker East Wenatchee, WA
East Wenatchee, WA
-
8
8
43
Rick Shaver Camano Island, WA
Camano Island, WA
-
Finish
Start
#
Competitor
Hometown
+/-
1
3
31
Chad Holaday Wenatchee, WA
Wenatchee, WA
2
2
7
99
Shane Mitchell East Wenatchee, WA
East Wenatchee, WA
5
3
6
25
Randy Marshall Jr Moxee, WA
Moxee, WA
3
4
5
16
Glenn Knutson Quincy, WA
Quincy, WA
1
5
4
33
Colby Holaday Wenatchee, WA
Wenatchee, WA
-1
6
1
68
Bart Hector Jr Ephrata, WA
Ephrata, WA
-5
7
2
86
Bart Hector Sr Ephrada, WA
Ephrada, WA
-5
Finish
Start
#
Competitor
Hometown
Time
1
10
99
Shane Mitchell East Wenatchee, WA
East Wenatchee, WA
2
2
68
Bart Hector Jr Ephrata, WA
Ephrata, WA
3
4
31
Chad Holaday Wenatchee, WA
Wenatchee, WA
4
7
16
Glenn Knutson Quincy, WA
Quincy, WA
5
9
25
Randy Marshall Jr Moxee, WA
Moxee, WA
6
5
33
Colby Holaday Wenatchee, WA
Wenatchee, WA
7
3
86
Bart Hector Sr Ephrada, WA
Ephrada, WA
8
11
98
Trucker Moore Wenatchee, WA
Wenatchee, WA
9
14
5
Donovan Stevens East Wenatchee, WA
East Wenatchee, WA
10
15
21
Cole Walker East Wenatchee, WA
East Wenatchee, WA
11
8
57
David Macken Moses Lake, WA
Moses Lake, WA
12
13
17
Kyle Steinburg Wenatchee, WA
Wenatchee, WA
13
6
01
Brandon Knouf Wenatchee, WA
Wenatchee, WA
14
1
03
Trey gooch Wenatchee, WA
Wenatchee, WA
15
12
43
Rick Shaver Camano Island, WA
Camano Island, WA
Rockstar Energy B-Mods & Speedtour Mods
Finish
Start
#
Competitor
Hometown
+/-
1
15
99
Shane Mitchell East Wenatchee, WA
East Wenatchee, WA
14
2
7
98
Trucker Moore Wenatchee, WA
Wenatchee, WA
5
3
9
33
Colby Holaday Wenatchee, WA
Wenatchee, WA
6
4
13
68
Bart Hector Jr Ephrata, WA
Ephrata, WA
9
5
11
16
Glenn Knutson Quincy, WA
Quincy, WA
6
6
8
68SR
Bart Hector Sr Ephrada, WA
Ephrada, WA
2
7
6
5
Donovan Stevens East Wenatchee, WA
East Wenatchee, WA
-1
8
4
57
David Macken Moses Lake, WA
Moses Lake, WA
-4
9
3
17
Kyle Steinburg Wenatchee, WA
Wenatchee, WA
-6
10
10
25
Randy Marshall Jr Moxee, WA
Moxee, WA
-
11
1
03
Trey gooch Wenatchee, WA
Wenatchee, WA
-10
12
2
01
Brandon Knouf Wenatchee, WA
Wenatchee, WA
-10
13
12
31
Chad Holaday Wenatchee, WA
Wenatchee, WA
-1
14
5
21
Cole Walker East Wenatchee, WA
East Wenatchee, WA
-9
15
14
43
Rick Shaver Camano Island, WA
Camano Island, WA
-1
Finish
Start
#
Competitor
Hometown
+/-
1
4
17
Kyle Steinburg Wenatchee, WA
Wenatchee, WA
3
2
2
03
Trey gooch Wenatchee, WA
Wenatchee, WA
-
3
3
01
Brandon Knouf Wenatchee, WA
Wenatchee, WA
-
4
5
57
David Macken Moses Lake, WA
Moses Lake, WA
1
5
7
5
Donovan Stevens East Wenatchee, WA
East Wenatchee, WA
2
6
8
98
Trucker Moore Wenatchee, WA
Wenatchee, WA
2
7
6
21
Cole Walker East Wenatchee, WA
East Wenatchee, WA
-1
8
1
43
Rick Shaver Camano Island, WA
Camano Island, WA
-7
Finish
Start
#
Competitor
Hometown
+/-
1
5
31
Chad Holaday Wenatchee, WA
Wenatchee, WA
4
2
7
99
Shane Mitchell East Wenatchee, WA
East Wenatchee, WA
5
3
3
25
Randy Marshall Jr Moxee, WA
Moxee, WA
-
4
4
16
Glenn Knutson Quincy, WA
Quincy, WA
-
5
2
33
Colby Holaday Wenatchee, WA
Wenatchee, WA
-3
6
6
68
Bart Hector Jr Ephrata, WA
Ephrata, WA
-
7
1
68SR
Bart Hector Sr Ephrada, WA
Ephrada, WA
-6
Finish
Start
#
Competitor
Hometown
Time
1
10
99
Shane Mitchell East Wenatchee, WA
East Wenatchee, WA
2
2
68
Bart Hector Jr Ephrata, WA
Ephrata, WA
3
4
31
Chad Holaday Wenatchee, WA
Wenatchee, WA
4
7
16
Glenn Knutson Quincy, WA
Quincy, WA
5
9
25
Randy Marshall Jr Moxee, WA
Moxee, WA
6
5
33
Colby Holaday Wenatchee, WA
Wenatchee, WA
7
3
68SR
Bart Hector Sr Ephrada, WA
Ephrada, WA
8
11
98
Trucker Moore Wenatchee, WA
Wenatchee, WA
9
14
5
Donovan Stevens East Wenatchee, WA
East Wenatchee, WA
10
15
21
Cole Walker East Wenatchee, WA
East Wenatchee, WA
11
8
57
David Macken Moses Lake, WA
Moses Lake, WA
12
13
17
Kyle Steinburg Wenatchee, WA
Wenatchee, WA
13
6
01
Brandon Knouf Wenatchee, WA
Wenatchee, WA
14
1
03
Trey gooch Wenatchee, WA
Wenatchee, WA
15
12
43
Rick Shaver Camano Island, WA
Camano Island, WA
Finish
Start
#
Competitor
Hometown
+/-
1
14
33
Colby Holaday Wenatchee, WA
Wenatchee, WA
13
2
7
25
Randy Marshall Jr Moxee, WA
Moxee, WA
5
3
15
31
Chad Holaday Wenatchee, WA
Wenatchee, WA
12
4
9
98
Trucker Moore Wenatchee, WA
Wenatchee, WA
5
5
8
99
Shane Mitchell East Wenatchee, WA
East Wenatchee, WA
3
6
2
68
Bart Hector Jr Ephrata, WA
Ephrata, WA
-4
7
11
17
Kyle Steinburg Wenatchee, WA
Wenatchee, WA
4
8
12
5
Donovan Stevens East Wenatchee, WA
East Wenatchee, WA
4
9
3
68SR
Bart Hector Sr Ephrada, WA
Ephrada, WA
-6
10
1
03
Trey gooch Wenatchee, WA
Wenatchee, WA
-9
11
4
01
Brandon Knouf Wenatchee, WA
Wenatchee, WA
-7
12
13
21
Cole Walker East Wenatchee, WA
East Wenatchee, WA
1
13
5
16
Glenn Knutson Quincy, WA
Quincy, WA
-8
14
6
57
David Macken Moses Lake, WA
Moses Lake, WA
-8
15
10
43
Rick Shaver Camano Island, WA
Camano Island, WA
-5
Finish
Start
#
Competitor
Hometown
+/-
1
1
03
Trey gooch Wenatchee, WA
Wenatchee, WA
-
2
13
17
Kyle Steinburg Wenatchee, WA
Wenatchee, WA
11
3
6
01
Brandon Knouf Wenatchee, WA
Wenatchee, WA
3
4
14
5
Donovan Stevens East Wenatchee, WA
East Wenatchee, WA
10
5
11
98
Trucker Moore Wenatchee, WA
Wenatchee, WA
6
6
3
68SR
Bart Hector Sr Ephrada, WA
Ephrada, WA
-3
7
8
57
David Macken Moses Lake, WA
Moses Lake, WA
1
8
2
68
Bart Hector Jr Ephrata, WA
Ephrata, WA
-6
9
12
43
Rick Shaver Camano Island, WA
Camano Island, WA
3
10
9
25
Randy Marshall Jr Moxee, WA
Moxee, WA
-1
11
5
33
Colby Holaday Wenatchee, WA
Wenatchee, WA
-6
12
4
31
Chad Holaday Wenatchee, WA
Wenatchee, WA
-8
Sprint Car Shootout
Finish
Start
#
Competitor
Hometown
+/-
1
9
07
Colton Nelson Meridian, ID
Meridian, ID
8
2
6
71
Riley Rogers Meridian, ID
Meridian, ID
4
3
2
12
Cameron Neisinger Everett, WA
Everett, WA
-1
4
8
16
Rob Grice Boise, ID
Boise, ID
4
5
4
65
Levi Rose Colville, WA
Colville, WA
-1
6
5
4
Greg Middendorf Snohomish, WA
Snohomish, WA
-1
7
1
15
Jacob Austin Lake Stevens, WA
Lake Stevens, WA
-6
8
11
44
Marv Schultz Spokane, WA
Spokane, WA
3
9
10
67C
Vern Church Seattle, WA
Seattle, WA
1
10
3
9
Jay Dishneau Snohomish, WA
Snohomish, WA
-7
11
7
7D
Randy Dubois Redmond, WA
Redmond, WA
-4
12
12
08
Anthony Offutt Portland OR, OR
Portland OR, OR
-
13
13
17
Douglas Cotey West Richland, WA
West Richland, WA
-
Finish
Start
#
Competitor
Hometown
+/-
1
1
12
Cameron Neisinger Everett, WA
Everett, WA
-
2
2
65
Levi Rose Colville, WA
Colville, WA
-
3
3
71
Riley Rogers Meridian, ID
Meridian, ID
-
4
5
67C
Vern Church Seattle, WA
Seattle, WA
1
5
6
08
Anthony Offutt Portland OR, OR
Portland OR, OR
1
6
4
16
Rob Grice Boise, ID
Boise, ID
-2
Finish
Start
#
Competitor
Hometown
+/-
1
2
9
Jay Dishneau Snohomish, WA
Snohomish, WA
1
2
4
7D
Randy Dubois Redmond, WA
Redmond, WA
2
3
5
07
Colton Nelson Meridian, ID
Meridian, ID
2
4
1
15
Jacob Austin Lake Stevens, WA
Lake Stevens, WA
-3
5
3
4
Greg Middendorf Snohomish, WA
Snohomish, WA
-2
6
6
44
Marv Schultz Spokane, WA
Spokane, WA
-
7
7
17
Douglas Cotey West Richland, WA
West Richland, WA
-
Finish
Start
#
Competitor
Hometown
Time
1
9
07
Colton Nelson Meridian, ID
Meridian, ID
11.187
2
6
16
Rob Grice Boise, ID
Boise, ID
11.266
3
5
7D
Randy Dubois Redmond, WA
Redmond, WA
11.337
4
11
71
Riley Rogers Meridian, ID
Meridian, ID
11.374
5
7
4
Greg Middendorf Snohomish, WA
Snohomish, WA
11.461
6
12
65
Levi Rose Colville, WA
Colville, WA
11.484
7
4
9
Jay Dishneau Snohomish, WA
Snohomish, WA
11.486
8
8
12
Cameron Neisinger Everett, WA
Everett, WA
11.557
9
1
15
Jacob Austin Lake Stevens, WA
Lake Stevens, WA
11.562
10
2
67C
Vern Church Seattle, WA
Seattle, WA
12.301
11
13
44
Marv Schultz Spokane, WA
Spokane, WA
12.512
12
10
08
Anthony Offutt Portland OR, OR
Portland OR, OR
12.822
13
3
17
Douglas Cotey West Richland, WA
West Richland, WA
13.832
Finish
Start
#
Competitor
Hometown
+/-
1
7
4
Greg Middendorf Snohomish, WA
Snohomish, WA
6
2
6
16
Rob Grice Boise, ID
Boise, ID
4
3
4
9
Jay Dishneau Snohomish, WA
Snohomish, WA
1
4
11
71
Riley Rogers Meridian, ID
Meridian, ID
7
5
2
67C
Vern Church Seattle, WA
Seattle, WA
-3
6
13
44
Marv Schultz Spokane, WA
Spokane, WA
7
7
10
08
Anthony Offutt Portland OR, OR
Portland OR, OR
3
8
9
07
Colton Nelson Meridian, ID
Meridian, ID
1
9
12
65
Levi Rose Colville, WA
Colville, WA
3
10
5
7D
Randy Dubois Redmond, WA
Redmond, WA
-5
11
3
17
Douglas Cotey West Richland, WA
West Richland, WA
-8
12
8
12
Cameron Neisinger Everett, WA
Everett, WA
-4
Finish
Start
#
Competitor
Hometown
+/-
1
12
65
Levi Rose Colville, WA
Colville, WA
11
2
2
67C
Vern Church Seattle, WA
Seattle, WA
-
3
8
12
Cameron Neisinger Everett, WA
Everett, WA
5
4
13
44
Marv Schultz Spokane, WA
Spokane, WA
9
5
7
4
Greg Middendorf Snohomish, WA
Snohomish, WA
2
6
4
9
Jay Dishneau Snohomish, WA
Snohomish, WA
-2
7
9
07
Colton Nelson Meridian, ID
Meridian, ID
2
8
6
16
Rob Grice Boise, ID
Boise, ID
-2
9
10
08
Anthony Offutt Portland OR, OR
Portland OR, OR
1
10
11
71
Riley Rogers Meridian, ID
Meridian, ID
1
11
5
7D
Randy Dubois Redmond, WA
Redmond, WA
-6
12
3
17
Douglas Cotey West Richland, WA
West Richland, WA
-9
West Coast Vintage Racers
Finish
Start
#
Competitor
Hometown
+/-
1
5
2
Rhody Hayes Pasco, WA
Pasco, WA
4
2
8
11
Bill Lawrence Kelowna, BC
Kelowna, BC
6
3
2
4C
John Coogan Spokane Valley, WA
Spokane Valley, WA
-1
4
6
09
Danny Karslake Kelowna, BC
Kelowna, BC
2
5
3
21
Jeff Cook Spokane, WA
Spokane, WA
-2
6
1
99
Daniel Arriola Caldwell, ID
Caldwell, ID
-5
7
10
13S
David Skyberg Boise, ID
Boise, ID
3
8
4
35
Cory Hayes Colbert, WA
Colbert, WA
-4
Finish
Start
#
Competitor
Hometown
Time
1
2
4C
John Coogan Spokane Valley, WA
Spokane Valley, WA
13.373
2
8
11
Bill Lawrence Kelowna, BC
Kelowna, BC
13.486
3
5
2
Rhody Hayes Pasco, WA
Pasco, WA
13.648
4
6
09
Danny Karslake Kelowna, BC
Kelowna, BC
13.716
5
3
21
Jeff Cook Spokane, WA
Spokane, WA
13.849
6
1
99
Daniel Arriola Caldwell, ID
Caldwell, ID
15.411
7
10
13S
David Skyberg Boise, ID
Boise, ID
16.367
Finish
Start
#
Competitor
Hometown
+/-
1
6
09
Danny Karslake Kelowna, BC
Kelowna, BC
5
2
8
11
Bill Lawrence Kelowna, BC
Kelowna, BC
6
3
10
13S
David Skyberg Boise, ID
Boise, ID
7
4
9
17
Allan Levien chilliwack, BC
chilliwack, BC
5
5
5
2
Rhody Hayes Pasco, WA
Pasco, WA
-
6
2
4C
John Coogan Spokane Valley, WA
Spokane Valley, WA
-4
7
3
21
Jeff Cook Spokane, WA
Spokane, WA
-4
8
7
95
Ricky Knapp Jr Buffalo, NY
Buffalo, NY
-1
9
1
99
Daniel Arriola Caldwell, ID
Caldwell, ID
-8
Finish
Start
#
Competitor
Hometown
+/-
1
1
99
Daniel Arriola Caldwell, ID
Caldwell, ID
-
2
4
35
Cory Hayes Colbert, WA
Colbert, WA
2
3
3
21
Jeff Cook Spokane, WA
Spokane, WA
-
4
10
13S
David Skyberg Boise, ID
Boise, ID
6
5
6
09
Danny Karslake Kelowna, BC
Kelowna, BC
1
6
2
4C
John Coogan Spokane Valley, WA
Spokane Valley, WA
-4
7
8
11
Bill Lawrence Kelowna, BC
Kelowna, BC
1
8
5
2
Rhody Hayes Pasco, WA
Pasco, WA
-3
9
7
95
Ricky Knapp Jr Buffalo, NY
Buffalo, NY
-2
Northwest Focus Midgets
Finish
Start
#
Competitor
Hometown
+/-
1
14
6S
Duane Swanson Seattle, WA
Seattle, WA
13
2
13
41X
Gabe Sessler Meridian, ID
Meridian, ID
11
3
10
81
Marty Rosler Burien, WA
Burien, WA
7
4
7
12J
Rebel Jackson Jr Buckley, WA
Buckley, WA
3
5
8
51
Michael Knutson Quincy, WA
Quincy, WA
3
6
9
86M
Marty Munce Tacoma, WA
Tacoma, WA
3
7
11
27
Deanne Sahwley Tukwila, WA
Tukwila, WA
4
8
5
5A
Jon Fugitt Bremerton, WA
Bremerton, WA
-3
9
15
63
Jason Thomas Granite Falls, WA
Granite Falls, WA
6
10
1
21C
Dale Creager Mukilteo, WA
Mukilteo, WA
-9
11
6
3B
Brian Hayes Mount Vernon, WA
Mount Vernon, WA
-5
12
2
15
Mark Creager Marysville, WA
Marysville, WA
-10
13
3
21T
Jan Evans Wenatchee, WA
Wenatchee, WA
-10
14
16
77
Tyler West Stanwood, WA
Stanwood, WA
2
Finish
Start
#
Competitor
Hometown
+/-
1
8
51
Michael Knutson Quincy, WA
Quincy, WA
7
2
16
77
Tyler West Stanwood, WA
Stanwood, WA
14
3
7
12J
Rebel Jackson Jr Buckley, WA
Buckley, WA
4
4
10
81
Marty Rosler Burien, WA
Burien, WA
6
5
11
27
Deanne Sahwley Tukwila, WA
Tukwila, WA
6
6
5
5A
Jon Fugitt Bremerton, WA
Bremerton, WA
-1
7
1
21C
Dale Creager Mukilteo, WA
Mukilteo, WA
-6
8
2
15
Mark Creager Marysville, WA
Marysville, WA
-6
Finish
Start
#
Competitor
Hometown
+/-
1
13
41X
Gabe Sessler Meridian, ID
Meridian, ID
12
2
14
6S
Duane Swanson Seattle, WA
Seattle, WA
12
3
15
63
Jason Thomas Granite Falls, WA
Granite Falls, WA
12
4
3
21T
Jan Evans Wenatchee, WA
Wenatchee, WA
-1
5
9
86M
Marty Munce Tacoma, WA
Tacoma, WA
4
6
6
3B
Brian Hayes Mount Vernon, WA
Mount Vernon, WA
-
7
12
23
Randy Schaaf Fife, WA
Fife, WA
5
Finish
Start
#
Competitor
Hometown
Time
1
14
77
Tyler West Stanwood, WA
Stanwood, WA
13.144
2
12
6S
Duane Swanson Seattle, WA
Seattle, WA
13.171
3
5
12J
Rebel Jackson Jr Buckley, WA
Buckley, WA
13.246
4
11
41X
Gabe Sessler Meridian, ID
Meridian, ID
13.250
5
8
81
Marty Rosler Burien, WA
Burien, WA
13.313
6
7
86M
Marty Munce Tacoma, WA
Tacoma, WA
13.464
7
6
51
Michael Knutson Quincy, WA
Quincy, WA
13.493
8
10
23
Randy Schaaf Fife, WA
Fife, WA
13.523
9
9
27
Deanne Sahwley Tukwila, WA
Tukwila, WA
13.553
10
13
63
Jason Thomas Granite Falls, WA
Granite Falls, WA
13.581
11
15
5A
Jon Fugitt Bremerton, WA
Bremerton, WA
13.594
12
3
21T
Jan Evans Wenatchee, WA
Wenatchee, WA
13.632
13
1
21C
Dale Creager Mukilteo, WA
Mukilteo, WA
13.771
14
4
3B
Brian Hayes Mount Vernon, WA
Mount Vernon, WA
13.984
15
2
15
Mark Creager Marysville, WA
Marysville, WA
14.162
Finish
Start
#
Competitor
Hometown
+/-
1
11
6S
Duane Swanson Seattle, WA
Seattle, WA
10
2
7
81
Marty Rosler Burien, WA
Burien, WA
5
3
4
3B
Brian Hayes Mount Vernon, WA
Mount Vernon, WA
1
4
13
15
Mark Creager Marysville, WA
Marysville, WA
9
5
1
21C
Dale Creager Mukilteo, WA
Mukilteo, WA
-4
6
3
5
AJ Fugitt Poulsbo, WA
Poulsbo, WA
-3
7
14
51
Michael Knutson Quincy, WA
Quincy, WA
7
8
10
41X
Gabe Sessler Meridian, ID
Meridian, ID
2
9
2
21T
Jan Evans Wenatchee, WA
Wenatchee, WA
-7
10
8
27
Deanne Sahwley Tukwila, WA
Tukwila, WA
-2
11
5
12J
Rebel Jackson Jr Buckley, WA
Buckley, WA
-6
12
6
86M
Marty Munce Tacoma, WA
Tacoma, WA
-6
13
12
77
Tyler West Stanwood, WA
Stanwood, WA
-1
14
9
23
Randy Schaaf Fife, WA
Fife, WA
-5
Finish
Start
#
Competitor
Hometown
+/-
1
12
41X
Gabe Sessler Meridian, ID
Meridian, ID
11
2
7
51
Michael Knutson Quincy, WA
Quincy, WA
5
3
10
27
Deanne Sahwley Tukwila, WA
Tukwila, WA
7
4
1
21C
Dale Creager Mukilteo, WA
Mukilteo, WA
-3
5
3
21T
Jan Evans Wenatchee, WA
Wenatchee, WA
-2
6
2
15
Mark Creager Marysville, WA
Marysville, WA
-4
7
5
3B
Brian Hayes Mount Vernon, WA
Mount Vernon, WA
-2
8
13
6S
Duane Swanson Seattle, WA
Seattle, WA
5
9
15
63
Jason Thomas Granite Falls, WA
Granite Falls, WA
6
10
8
86M
Marty Munce Tacoma, WA
Tacoma, WA
-2
11
14
77
Tyler West Stanwood, WA
Stanwood, WA
3
12
9
81
Marty Rosler Burien, WA
Burien, WA
-3
13
6
12J
Rebel Jackson Jr Buckley, WA
Buckley, WA
-7
14
4
5
AJ Fugitt Poulsbo, WA
Poulsbo, WA
-10
15
11
23
Randy Schaaf Fife, WA
Fife, WA
-4