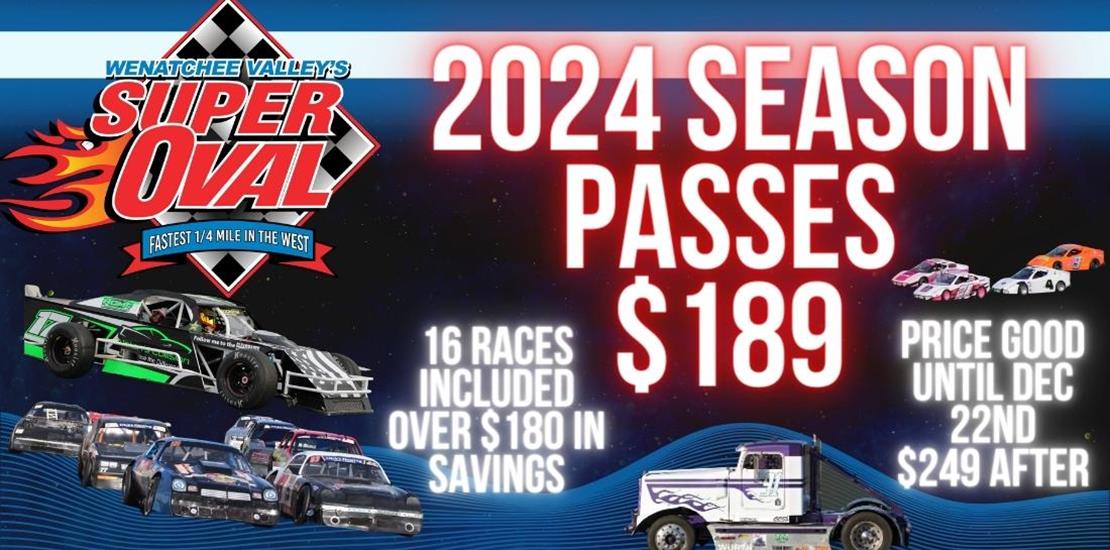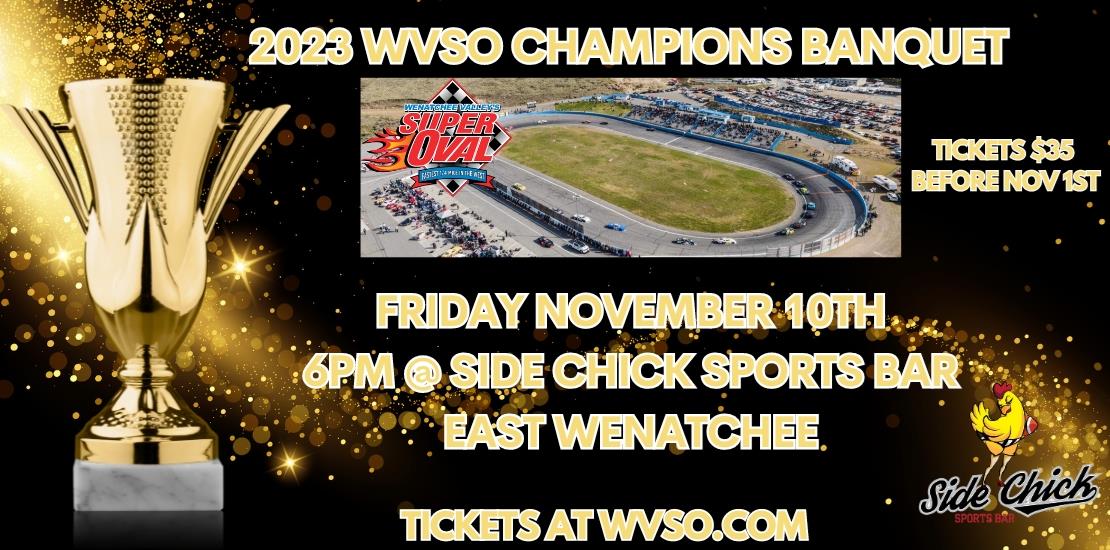 10/10/2023 -
2023 Banquet Tickets are now onsale! The Banquet will be held Friday November 10th at the brand new Side Chick Sports Bar in East Wenatchee. We will h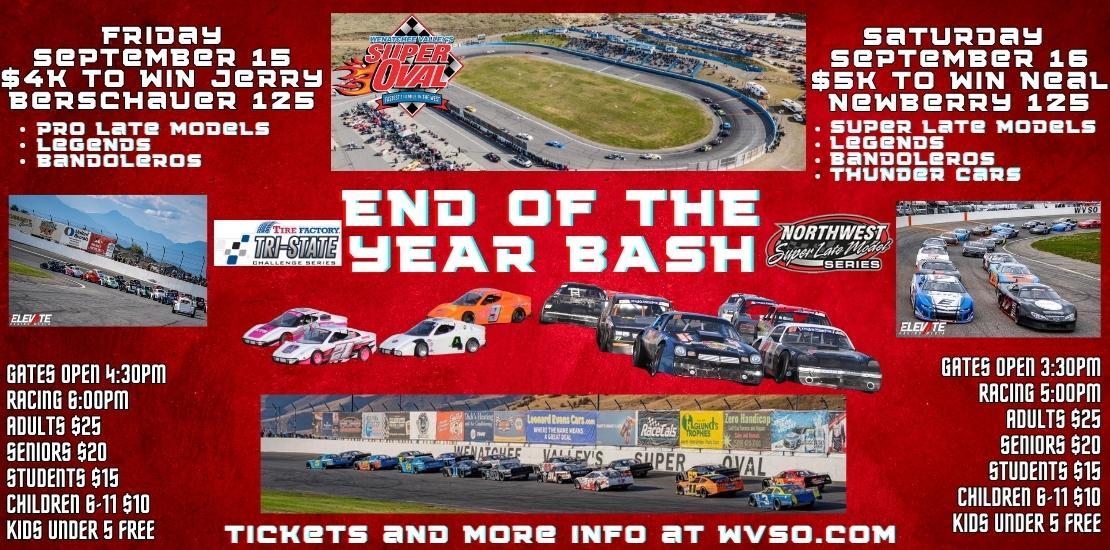 8/25/2023 -
It's one of the biggest weekends of racing in the Northwest for the End of the Year Bash at WVSO Friday September 15 & Saturday September 16. Tickets,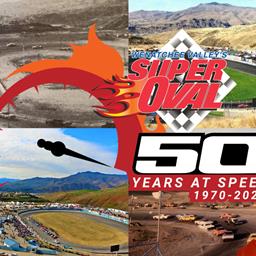 7/8/2023 - Wenatchee Valley Super Oval
Wenatchee, WA
Kids Bike Night by Dick's Heating & Air Conditioning
Dick's Heating and Air Conditioning is proud to once again Present Kids Bike Night Saturday July 8th. All kids 12 and under will get in free plus all kids will get a raffle ticket when they enter for a chance to win one of the 100 plus Bike we will be giving away. We will have six divisions racing and the first 200 kids get a Free Kids Night racing poster.
Get tickets now at wvso.com
Gates Open at 4:30pm
Racing at 6:00pm
No Outside Food or Beverage is allowed. We offer full concessions, beer garden, snack shack and more.
Dick's Heating and Air Conditioning Thunder Cars

21 entries

Plumb Perfect Roadrunners

16 entries

AMCA Bandit Dwarf Cars

6 entries

Angel Bail Bonds Bandoleros

7 entries

WMRA Midgets

6 entries

Zero Handicap Youth Roadrunners

7 entries
Full Event Information on MyRacePass
Dick's Heating and Air Conditioning Thunder Cars
Finish
Start
#
Competitor
Hometown
+/-
1
6
14
Seth Frazier East Wenatchee, WA
East Wenatchee, WA
5
2
2
25
Bob Greiner East Wenatchee, WA
East Wenatchee, WA
-
3
5
21B
Brad Morrison Moses Lake, WA
Moses Lake, WA
2
4
3
55A
Andrew Aper South Cle Elum, WA
South Cle Elum, WA
-1
5
9
84
Carl Brandt Wenatchee, WA
Wenatchee, WA
4
6
8
7
Dale Wennerberg Monitor, WA
Monitor, WA
2
7
13
48
Derrick Gomes Onalaska, WA
Onalaska, WA
6
8
20
42
Chandler Holaday Wenatchee, WA
Wenatchee, WA
12
9
15
95
Tony Daggett East Wenatchee, WA
East Wenatchee, WA
6
10
16
31D
Ellie Dunseith Penticton, BC
Penticton, BC
6
11
17
21X
Bryce Tyler Elma, WA
Elma, WA
6
12
18
24
James Warren MORTON, WA
MORTON, WA
6
13
1
4
Josh Musgrove malaga, WA
malaga, WA
-12
14
7
10
Elijah Pennington Tacoma, WA
Tacoma, WA
-7
15
19
58
Dennis Kennedy Wenatchee, WA
Wenatchee, WA
4
16
12
03
Ron Stewart Moses Lake, WA
Moses Lake, WA
-4
17
4
77
Jordan Mullins Naches, WA
Naches, WA
-13
18
11
8A
Austin Graner West Kelowna, BC
West Kelowna, BC
-7
DNS
10
7.5
Mike Sims Monitor, WA
Monitor, WA
-
DNS
14
8
Rick Bretches Quincy, WA
Quincy, WA
-
Finish
Start
#
Competitor
Hometown
+/-
1
3
21X
Bryce Tyler Elma, WA
Elma, WA
2
2
2
24
James Warren MORTON, WA
MORTON, WA
-
3
4
31D
Ellie Dunseith Penticton, BC
Penticton, BC
1
4
9
8A
Austin Graner West Kelowna, BC
West Kelowna, BC
5
5
7
48
Derrick Gomes Onalaska, WA
Onalaska, WA
2
6
10
42
Chandler Holaday Wenatchee, WA
Wenatchee, WA
4
7
5
95
Tony Daggett East Wenatchee, WA
East Wenatchee, WA
-2
8
1
58
Dennis Kennedy Wenatchee, WA
Wenatchee, WA
-7
DNS
6
8
Rick Bretches Quincy, WA
Quincy, WA
-
DNS
8
03
Ron Stewart Moses Lake, WA
Moses Lake, WA
-
Finish
Start
#
Competitor
Hometown
+/-
1
3
7
Dale Wennerberg Monitor, WA
Monitor, WA
2
2
7
55A
Andrew Aper South Cle Elum, WA
South Cle Elum, WA
5
3
8
77
Jordan Mullins Naches, WA
Naches, WA
5
4
6
25
Bob Greiner East Wenatchee, WA
East Wenatchee, WA
2
5
2
84
Carl Brandt Wenatchee, WA
Wenatchee, WA
-3
6
4
10
Elijah Pennington Tacoma, WA
Tacoma, WA
-2
7
5
4
Josh Musgrove malaga, WA
malaga, WA
-2
8
1
7.5
Mike Sims Monitor, WA
Monitor, WA
-7
9
9
21B
Brad Morrison Moses Lake, WA
Moses Lake, WA
-
DNS
10
14
Seth Frazier East Wenatchee, WA
East Wenatchee, WA
-
Finish
Start
#
Competitor
Hometown
Time
1
6
14
Seth Frazier East Wenatchee, WA
East Wenatchee, WA
14.911
2
12
21B
Brad Morrison Moses Lake, WA
Moses Lake, WA
14.922
3
13
77
Jordan Mullins Naches, WA
Naches, WA
14.931
4
1
55A
Andrew Aper South Cle Elum, WA
South Cle Elum, WA
15.048
5
9
25
Bob Greiner East Wenatchee, WA
East Wenatchee, WA
15.086
6
14
4
Josh Musgrove malaga, WA
malaga, WA
15.095
7
15
10
Elijah Pennington Tacoma, WA
Tacoma, WA
15.275
8
21
7
Dale Wennerberg Monitor, WA
Monitor, WA
15.315
9
2
84
Carl Brandt Wenatchee, WA
Wenatchee, WA
15.334
10
17
7.5
Mike Sims Monitor, WA
Monitor, WA
15.347
11
8
8A
Austin Graner West Kelowna, BC
West Kelowna, BC
15.387
12
18
03
Ron Stewart Moses Lake, WA
Moses Lake, WA
15.423
13
7
48
Derrick Gomes Onalaska, WA
Onalaska, WA
15.434
14
3
8
Rick Bretches Quincy, WA
Quincy, WA
15.478
15
4
95
Tony Daggett East Wenatchee, WA
East Wenatchee, WA
15.481
16
5
31D
Ellie Dunseith Penticton, BC
Penticton, BC
15.491
17
19
21X
Bryce Tyler Elma, WA
Elma, WA
15.738
18
20
24
James Warren MORTON, WA
MORTON, WA
15.856
19
11
58
Dennis Kennedy Wenatchee, WA
Wenatchee, WA
15.990
DNS
10
42
Chandler Holaday Wenatchee, WA
Wenatchee, WA
DNS
16
12
Luke Schall Wenatchee, WA
Wenatchee, WA
Plumb Perfect Roadrunners
Finish
Start
#
Competitor
Hometown
+/-
1
2
15W
Jayson Walker East Wenatchee, WA
East Wenatchee, WA
1
2
8
32
Jay Evans Wenatchee, WA
Wenatchee, WA
6
3
11
25
RT Greiner East Wenatchee, WA
East Wenatchee, WA
8
4
7
19
Eddie Razey Soap Lake, WA
Soap Lake, WA
3
5
10
55K
Kyle Spaulding East Wenatchee, WA
East Wenatchee, WA
5
6
3
35
Jared Bykoski East Wenatchee, WA
East Wenatchee, WA
-3
7
1
110
Tammy Aper Cle Elum, WA
Cle Elum, WA
-6
8
4
90
Dave Scott Selah, WA
Selah, WA
-4
9
5
15
Kamery Welton Moxee, WA
Moxee, WA
-4
10
13
08
Bill Holbrook Wenatchee, WA
Wenatchee, WA
3
11
14
80V
John Vickrey Sr Wenatchee, WA
Wenatchee, WA
3
12
15
22
Emily Macken Moses Lake, WA
Moses Lake, WA
3
13
6
16
Brad Arneson Ephrata, WA
Ephrata, WA
-7
14
12
9
Hans Roberts Ephrata, WA
Ephrata, WA
-2
DNS
9
37
Cody Denton Yakima, WA
Yakima, WA
-
DNS
16
17W
Wallace Baker East Wenatchee, WA
East Wenatchee, WA
-
Finish
Start
#
Competitor
Hometown
+/-
1
6
15W
Jayson Walker East Wenatchee, WA
East Wenatchee, WA
5
2
5
110
Tammy Aper Cle Elum, WA
Cle Elum, WA
3
3
7
35
Jared Bykoski East Wenatchee, WA
East Wenatchee, WA
4
4
8
90
Dave Scott Selah, WA
Selah, WA
4
5
4
08
Bill Holbrook Wenatchee, WA
Wenatchee, WA
-1
6
3
80V
John Vickrey Sr Wenatchee, WA
Wenatchee, WA
-3
7
1
17W
Wallace Baker East Wenatchee, WA
East Wenatchee, WA
-6
8
2
22
Emily Macken Moses Lake, WA
Moses Lake, WA
-6
Finish
Start
#
Competitor
Hometown
+/-
1
3
19
Eddie Razey Soap Lake, WA
Soap Lake, WA
2
2
1
15
Kamery Welton Moxee, WA
Moxee, WA
-1
3
2
16
Brad Arneson Ephrata, WA
Ephrata, WA
-1
4
5
37
Cody Denton Yakima, WA
Yakima, WA
1
5
6
55K
Kyle Spaulding East Wenatchee, WA
East Wenatchee, WA
1
6
8
9
Hans Roberts Ephrata, WA
Ephrata, WA
2
7
7
25
RT Greiner East Wenatchee, WA
East Wenatchee, WA
-
8
4
32
Jay Evans Wenatchee, WA
Wenatchee, WA
-4
Finish
Start
#
Competitor
Hometown
Time
1
11
9
Hans Roberts Ephrata, WA
Ephrata, WA
16.920
2
7
25
RT Greiner East Wenatchee, WA
East Wenatchee, WA
16.974
3
13
55K
Kyle Spaulding East Wenatchee, WA
East Wenatchee, WA
16.979
4
5
37
Cody Denton Yakima, WA
Yakima, WA
17.010
5
6
32
Jay Evans Wenatchee, WA
Wenatchee, WA
17.052
6
10
19
Eddie Razey Soap Lake, WA
Soap Lake, WA
17.120
7
2
16
Brad Arneson Ephrata, WA
Ephrata, WA
17.140
8
12
90
Dave Scott Selah, WA
Selah, WA
17.325
9
4
35
Jared Bykoski East Wenatchee, WA
East Wenatchee, WA
17.521
10
15
15W
Jayson Walker East Wenatchee, WA
East Wenatchee, WA
17.530
11
1
110
Tammy Aper Cle Elum, WA
Cle Elum, WA
17.594
12
8
08
Bill Holbrook Wenatchee, WA
Wenatchee, WA
17.946
13
14
80V
John Vickrey Sr Wenatchee, WA
Wenatchee, WA
18.465
14
9
22
Emily Macken Moses Lake, WA
Moses Lake, WA
19.356
15
16
15
Kamery Welton Moxee, WA
Moxee, WA
21.518
16
3
17W
Wallace Baker East Wenatchee, WA
East Wenatchee, WA
21.518
All transfer
AMCA Bandit Dwarf Cars
Finish
Start
#
Competitor
Hometown
+/-
1
3
8W
Dale Knutson
2
2
4
1W
Daryl Knutson Marysville, WA
Marysville, WA
2
3
5
22W
Chuck O'Connor PORT TOWNSEND, WA
PORT TOWNSEND, WA
2
4
6
6W
Steven Taylor PORT TOWNSEND, WA
PORT TOWNSEND, WA
2
5
1
42
Jay Elliot Bremerton, WA
Bremerton, WA
-4
DNS
2
87
James Ham , WA
, WA
-
Finish
Start
#
Competitor
Hometown
+/-
1
5
1W
Daryl Knutson Marysville, WA
Marysville, WA
4
2
4
8W
Dale Knutson
2
3
2
6W
Steven Taylor PORT TOWNSEND, WA
PORT TOWNSEND, WA
-1
4
1
22W
Chuck O'Connor PORT TOWNSEND, WA
PORT TOWNSEND, WA
-3
5
3
42
Jay Elliot Bremerton, WA
Bremerton, WA
-2
DNS
6
87
James Ham , WA
, WA
-
Finish
Start
#
Competitor
Hometown
Time
1
4
1W
Daryl Knutson Marysville, WA
Marysville, WA
14.749
2
3
8W
Dale Knutson
14.784
3
1
42
Jay Elliot Bremerton, WA
Bremerton, WA
15.252
4
6
6W
Steven Taylor PORT TOWNSEND, WA
PORT TOWNSEND, WA
15.316
5
5
22W
Chuck O'Connor PORT TOWNSEND, WA
PORT TOWNSEND, WA
15.731
6
2
87
James Ham , WA
, WA
17.288
Angel Bail Bonds Bandoleros
Finish
Start
#
Competitor
Hometown
+/-
1
4
-4
Wyatt Flowers Palmer, AK
Palmer, AK
3
2
3
24
Cole Dasenbrock Deer Park, WA
Deer Park, WA
1
3
2
31
Kaden Steinburg Wenatchee, WA
Wenatchee, WA
-1
4
1
21
Matthew Anders Wenatchee, WA
Wenatchee, WA
-3
5
5
91
Dakota Ballard Yakima, WA
Yakima, WA
-
6
6
9
Gracin Bull East Wenatchee, WA
East Wenatchee, WA
-
Finish
Start
#
Competitor
Hometown
+/-
1
3
24
Cole Dasenbrock Deer Park, WA
Deer Park, WA
2
2
4
-4
Wyatt Flowers Palmer, AK
Palmer, AK
2
3
2
31
Kaden Steinburg Wenatchee, WA
Wenatchee, WA
-1
4
1
21
Matthew Anders Wenatchee, WA
Wenatchee, WA
-3
5
5
91
Dakota Ballard Yakima, WA
Yakima, WA
-
6
6
9
Gracin Bull East Wenatchee, WA
East Wenatchee, WA
-
Finish
Start
#
Competitor
Hometown
Time
1
5
-4
Wyatt Flowers Palmer, AK
Palmer, AK
15.731
2
4
24
Cole Dasenbrock Deer Park, WA
Deer Park, WA
15.997
3
7
31
Kaden Steinburg Wenatchee, WA
Wenatchee, WA
16.373
4
1
21
Matthew Anders Wenatchee, WA
Wenatchee, WA
16.616
5
2
91
Dakota Ballard Yakima, WA
Yakima, WA
17.089
6
3
9
Gracin Bull East Wenatchee, WA
East Wenatchee, WA
25.574
DNS
6
43
Ben Hindman Vancouver, WA
Vancouver, WA
All transfer
WMRA Midgets
Finish
Start
#
Competitor
Hometown
+/-
1
3
84
Tony Seidelman Spanaway, WA
Spanaway, WA
2
2
2
4
Garrett McLees Olympia, WA
Olympia, WA
-
3
6
0
dan matthews esquimalt, BC
esquimalt, BC
3
4
4
21
Scott Seidleman Tacoma, WA
Tacoma, WA
-
DNS
1
81
Kenny Wood
-
DNS
5
7X
Thomas Beierman Ephrata, WA
Ephrata, WA
-
Finish
Start
#
Competitor
Hometown
+/-
1
2
4
Garrett McLees Olympia, WA
Olympia, WA
1
2
3
84
Tony Seidelman Spanaway, WA
Spanaway, WA
1
3
4
21
Scott Seidleman Tacoma, WA
Tacoma, WA
1
4
6
0
dan matthews esquimalt, BC
esquimalt, BC
2
DNS
1
81
Kenny Wood
-
DNS
5
7X
Thomas Beierman Ephrata, WA
Ephrata, WA
-
Zero Handicap Youth Roadrunners
Finish
Start
#
Competitor
Hometown
+/-
1
4
79
Kayleb Gill Wenatchee, WA
Wenatchee, WA
3
2
5
37
Bailee Denton Selah, WA
Selah, WA
3
3
2
99
Tommy Craig Wenatchee, WA
Wenatchee, WA
-1
4
3
16
Laila Arneson Soap Lake, WA
Soap Lake, WA
-1
5
1
14
preston Brandt Marysville, WA
Marysville, WA
-4
6
6
01
Kyson Knouf Wenatchee, WA
Wenatchee, WA
-
7
7
34
Tyler Steinburg Wenatchee, WA
Wenatchee, WA
-
Finish
Start
#
Competitor
Hometown
+/-
1
4
79
Kayleb Gill Wenatchee, WA
Wenatchee, WA
3
2
2
99
Tommy Craig Wenatchee, WA
Wenatchee, WA
-
3
5
37
Bailee Denton Selah, WA
Selah, WA
2
4
3
16
Laila Arneson Soap Lake, WA
Soap Lake, WA
-1
5
1
14
preston Brandt Marysville, WA
Marysville, WA
-4
6
6
01
Kyson Knouf Wenatchee, WA
Wenatchee, WA
-
7
7
34
Tyler Steinburg Wenatchee, WA
Wenatchee, WA
-
Finish
Start
#
Competitor
Hometown
Time
1
4
37
Bailee Denton Selah, WA
Selah, WA
17.084
2
5
79
Kayleb Gill Wenatchee, WA
Wenatchee, WA
17.107
3
1
16
Laila Arneson Soap Lake, WA
Soap Lake, WA
17.359
4
3
99
Tommy Craig Wenatchee, WA
Wenatchee, WA
17.400
5
2
14
preston Brandt Marysville, WA
Marysville, WA
17.721
6
6
01
Kyson Knouf Wenatchee, WA
Wenatchee, WA
18.262
7
7
34
Tyler Steinburg Wenatchee, WA
Wenatchee, WA
18.625